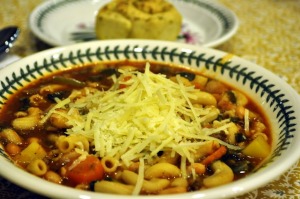 James of Buon Gusto Farms in Ventura generously gave me some of his handcrafted California Coastal Olive Oil . So, I created this menu to try it out in cooking and baking. It's marvelously buttery and has rich texture and flavor.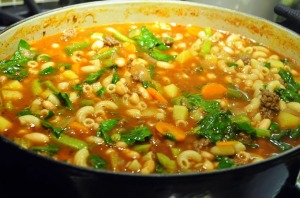 We have no idea how to make a small batch of soup! But, this one does freeze well.
There are probably as many variations of Minestrone as their are Italian chefs but it is basically a vegetable beef soup that contains pasta and beans. Feel free to use this recipe as a basis for your own version of comfort in a bowl.
Minestrone
In a large Dutch Oven, over medium heat, saute:
1 large onion, diced
5 ribs Celery, sliced
3 Carrots, peeled and thinly sliced
1 Tablespoon Garlic, minced
Stir occasionally until vegetables soften, about 8 minutes.
In the meantime, cook 1/2 pound small pasta according to package directions, strain, and set aside.
Add 1 pound Lean Ground Beef to the vegetables in the Dutch Oven.
Crumble and continue to stir until meat is browned through.
Then pour in 3/4 cup Red Wine and stir until wine is mostly evaporated, or absorbed.
Pour in 6 – 8 cups Beef Broth.
Add:
4 small Yukon Gold Potatoes, cut into small cubes
1 pound Green Beans, cut into 1-inch pieces on the diagonal
Simmer for 15 – 20 minutes until potatoes are cooked through.
Then add:
Reserved Pasta
1 pound Fresh Spinach, shredded with stems removed
Cover and simmer for another 10 – 15 minutes until spinach is wilted.
Serve steaming hot sprinkled with grated Parmesan Cheese.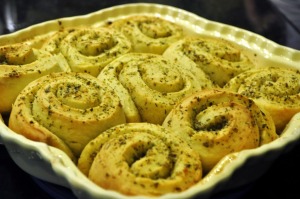 Can't you just smell them?
In a Stand mixer fitted with a dough hook, mix:
3 cups Bread Flour
1 Tablespoon Instant Yeast
1 teaspoon Salt
2 Tablespoons Sugar

When blended, slowly pour in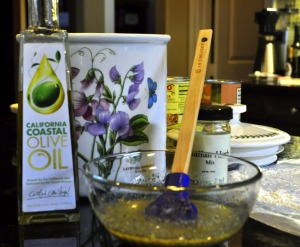 1 cup Warm Water
Then drizzle in 2 – 3 Tablespoons Olive Oil with mixer running
Sprinkle a sheet of wax paper with flour and turn out the dough onto it.
Knead until fully combined then place in an oiled bowl.
Cover and allow to rise for
45 minutes.
While the dough is rising, make Garlic Herb Filling.
Whisk together:
2 Tablespoons Butter, melted
3 cloves Garlic, minced
Spray a 9-inch square baking pan with non-stick baking spray.
Punch the dough down and roll it into a rectangle on a floured sheet of wax paper.
Using a pastry brush, cover the dough with the Garlic Herb Filling.
Roll on long end into a roll and press ends in to seal.
Slice with a sharp knife into 9 equal pinwheels.
Place them into the baking pan, evenly spaced out.
Brush remaining Garlic Herb filling on top of each roll.
Cover pan with plastic wrap and allow to rise for another 20 minutes.
Pre-heat the oven to 350 degrees.
Bake for 45 – 55 minutes until golden brown.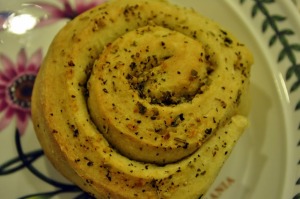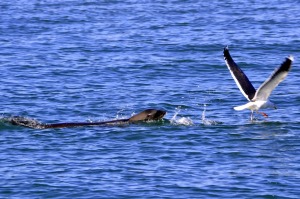 This seal would rather have a seagull snack! Channel Islands Harbor
These recipes are provided for your personal use. If you publish them, or re-post them, please give me credit. Grazie e Buon Appetito!