This recipe produces a not-too-sweet brownie infused with Bourbon and topped with Buttercream swirled with Milk Chocolate. They come together quickly and are great for when you need a little chocolate something.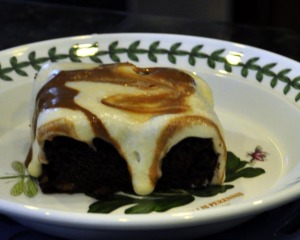 I imagine you could substitute Port,Kahlua, or Baileys for the Bourbon in this recipe.
Preheat oven to 350 degrees.

In a medium saucepan over medium heat, stir together:
1/3 cup Butter
2 Tablespoons Water
1/2 cup Sugar
When the liquid begins to boil, stir in 8 ounces Dark Chocolate.
Continue to stir until chocolate is melted, then remove from heat.

Stir in:
1 Tablespoon Bourbon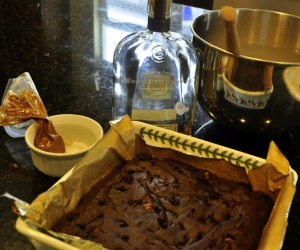 Soaking up the Bourbon
2 Eggs

Then using a rubber spatula, fold in:
3/4 cup Flour
1/4 teaspoon Salt
1/4 teaspoon Baking Soda

When fully combined, stir in:
3/4 cup Pecans, coarsely chopped

Line a 8 x 8-inch pan with Parchment Paper and coat with Baking Spray.
Pour batter into pan.
Bake for 20 – 25 minutes.

Remove from oven and poke about 20 holes in the cooked Brownies and sprinkle with 2 Tablespoons Bourbon.

While the Brownies cool, make the Buttercream.

In the bowl of a stand mixer, whip 3 Tablespoons Butter
Slowly pour in 1/2 teaspoon Vanilla Extract
Add 2 – 3 teaspoons milk until icing reaches desired consistency.
Continue whipping for 2 – 3 minutes until fluffy.

Place 2 ounces Milk Chocolate in a plastic bag – leave open and microwave at 30-second intervals until melted.
Snip one corner of the bag and drizzle the Chocolate over the Buttercream and swirl.

If you're like us, you won't manage to allow the Brownies to cool completely before tasting them!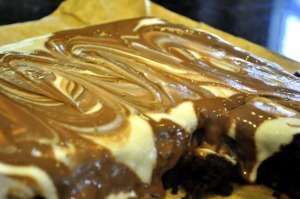 You may have better luck waiting for them to cool!
These recipes are provided for your personal use. If you publish them, or re-post them, please give me credit. Grazie e Buon Appetito!