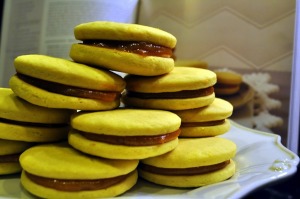 Alfajores filled with Dulce de Leche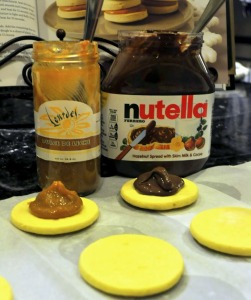 I filled some with little bit of each
This week's Baked Sunday Mornings challenge is for Alfajores filled with Dulce de Leche. I've never had these, so may not be a good judge, but here is a post from my friend, Paula, who lives in Buenos Aires, that describes them in a little more detail. She is beautiful, creative, and talented, so please take a moment to check out her blog, Vintage Kitchen Notes.

These delicate, crumbly cookies are traditionally filled with Dulce de Leche. The Baked Boys provided a recipe for Dulce de Leche, but here in Oxnard, we have a very talented jam-maker, named Lourdes from Ecuador who makes it, so I used hers. They're really easy to make (if you use prepared Dulce de Leche). They are great with coffee and tea. The cake-like cookies are laced with Rum and Lemon Zest and the delicate caramel flavor of the Dulce de Leche is a great match. I also made a few with Nutella ( I know, Mark just gacked!), which I liked.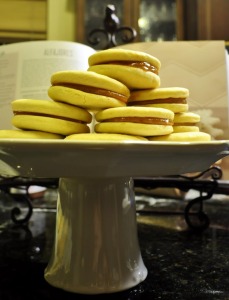 Can you eat just one?
Happy Mother's Day to all you mothers out there and thanks for all you do!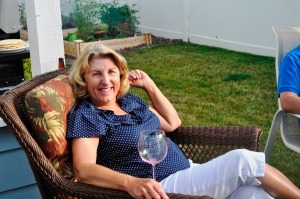 Here's my beautiful mom!
These recipes are provided for your personal use. If you publish them, or re-post them, please give me credit. Grazie e Buon Appetito!