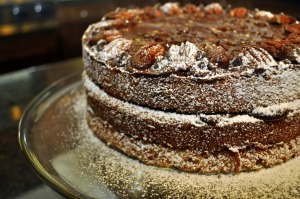 Coconut, Chocolate, and Toasted Pecans!
This is the first of three cakes I'll be baking for John's birthday this year – which is tomorrow. We'd never had Italian Cream Cake before, but love coconut and toasted pecans, so we decided to try it. This recipe comes from Julie Richardson's Vintage Cakes. Julie elevates this sponge cake filled with coconut and pecans to the next level by substituting the traditional cream cheese frosting with pecan-studded chocolate ganache! John said it was like a chocolate macaroon cake. I think it's like a reverse German Chocolate Cake. Either way, it's light and delicious!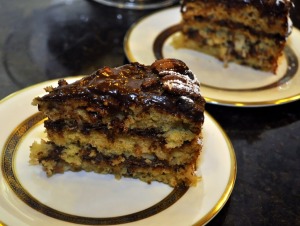 I decorated the top with chocolate chips between plain and chocolate-dipped pecans then dusted the sides with powdered sugar, according to the recipe. To make the chocolate-dipped pecans, place a sheet of wax paper on a firm flat surface (I used a small cutting board). Dip one end of the pecan into the Chocolate Ganache before you put it in the refrigerator. Then place the pecans on the wax paper and them in the freezer to set while the ganache cools.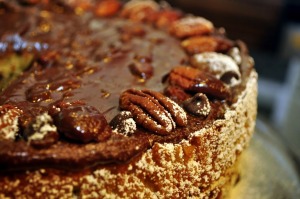 As elegant as this cake is, it comes together very easily. Julie's directions are really well-written and easy to follow. With a little time and confidence, you can't go wrong with this cookbook.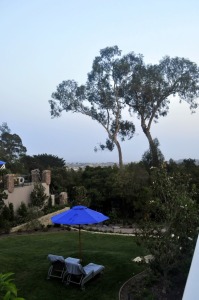 El Encanto Hotel, Santa Barbara
Happy Birthday, John!
These recipes are provided for your personal use. If you publish them, or re-post them, please give me credit. Grazie e Buon Appetito!