Strawberry shortcake is one of my all-time favorite desserts! With so many beautiful peaches at the Farmers' Market right now, I created a shortcake to complement them. If you really want to amp this dessert up, you can drizzle it with Raspberry Coulis!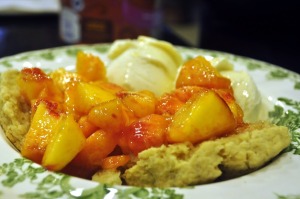 Makes 6 desserts.
Preheat oven to 350 degrees.
In a large bowl, stir together:
1 1/2 cups Flour
1/4 Dark Brown Sugar
2 teaspoons Baking Powder
1/4 teaspoon Salt
Using a pastry cutter, cut in:
4 1/2 Tablespoons Butter sliced into 5 pieces
When butter is well-blended and mixture is crumbly, cut in:
1/2 cup Cream
1 teaspoon Almond Extract
Dust a sheet of wax paper with flour and pat dough until it's about 3/4 inch thick.
Cut with round biscuit cutter about 3-inches in diameter.
Spread out evenly on a baking sheet lined with parchment paper.
Bake for 20 minutes until risen and lightly browned.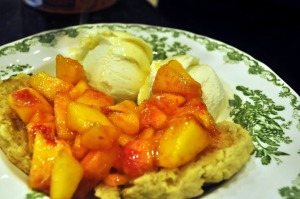 While shortcakes are in the oven, prepare peaches.
In a medium bowl, toss together:
5 Peaches, peeled and diced
4 Tablespoons Amaretto
1 Tablespoon Sugar
Set aside.


To Assemble:
Slice shortcake in half, place in a soup bowl, and spoon peaches over it.
Place 1 – 2 scoops Vanilla Ice Cream next to shortcake and drizzle Amaretto over it.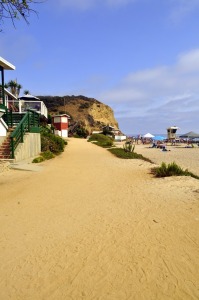 Crystal Cove Beach, California
These recipes are provided for your personal use. If you publish them, or re-post them, please give me credit. Grazie e Buon Appetito!