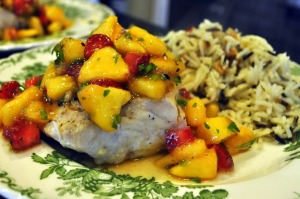 Fabulously fresh summer meal enjoyed in our garden

I bought some freshly caught White Sea Bass from Fresh Fish Fanatics at the Channel Islands Farmers' Market on Sunday and my brother gave John a great Wilton Armentale fish grilling platter for his birthday so he wanted to try it. It doesn't take much seasoning to bring out the flavor of fresh fish.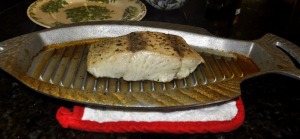 Preheat the grill to medium.
Place a 1-pound piece of White Sea Bass (or other dense fish) on grilling platter, drizzle with Garlic Olive Oil, and sprinkle with salt & pepper, turning to coat both sides.
Place platter on grill and cook for 5 minutes on each side, until it flakes with a fork.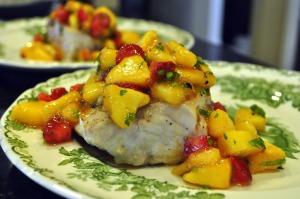 Nectarine and Strawberry Vinaigrette
1 Nectarine, peeled and diced
5 Strawberries, stemmed and diced (these came from our garden!)
2 stems Flat Leaf Parsley, minced
5 – 6 Chives, minced (+ flowers, if desired)
2 Tablespoons Peach White Balsamic Vinegar
2 Tablespoons Oilve Oil
Salt and Pepper, to taste

Spoon vinaigrette over warm fish.

We served this fish with Rice Pilaf from Trader Joe's to round out this delicious summer meal.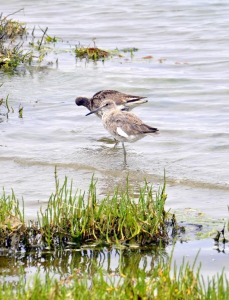 Pair of Willets, Point Mugu, California
These recipes are provided for your personal use. If you publish them, or re-post them, please give me credit. Grazie e Buon Appetito!