When John suggested Vinegar Gravy, I was a little skeptical, but it was his Gran's recipe from Northern Mississippi. Since he knows what I like, I said "Sure." Boy, am I glad I did! It was absolutely delicious comfort food. He explained that in areas where alcohol isn't readily consumed (think Southern Bible Belt), they use vinegar to de-glaze their pans instead of wine. I'll bet this method was also popular during prohibition.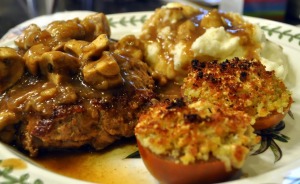 A bit of comfort on a plate!
Chopped Steak with Vinegar and Mushroom Gravy

Create 2, 3, or 4 patties from one pound of high-grade Hamburger Meat – we used Novy Ranches 90/10 that we bought at the Farmers' Market at the Channel Islands Harbor.
Sprinkle with salt, pepper, and garlic powder.


Set a large skillet over medium-high heat and brown the meat on both sides (about 4 minutes a side)
Place the steaks on a plate and cover them with foil.

Reduce heat to medium.
Stir 8-ounces White Mushrooms, washed and quartered
2 Tablespoons Shallots, minced
Cook, stirring occasionally until the mushrooms started to shrink.
De-glaze the pan with 3 Tablespoons White Vinegar.
Stir in:
1 cup Beef Broth
1 Tablespoon Beef Demi-glace
When thoroughly combined,
Whisk in 1 – 3 Tablespoons Wondra Flour until sauce thickens

Then, return meat to pan.
Continue to simmer, spooning sauce over meat for about 8 minutes until meat is warmed through.
Place steaks on plate and spoon mushrooms and sauce over them.


Cream Cheese Mashed
Potatoes
Boil in salted water for about 15 minutes until potatoes can be easily pierced with a fork.
Strain potatoes and return to warm pan.
Add:
3 ounces Cream Cheese
3 Tablespoons Butter
1/4 cup Milk
Salt and Pepper, to taste
Mash with a potato masher to desired consistency.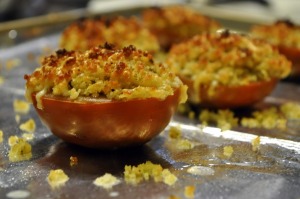 Just from the oven
Turn Broiler on high.
Line a baking sheet with foil.
In a small bowl, mix together with a fork
3 Tablespoons Bread Crumbs
3 Tablespoons Parmesan Cheese, shredded
1/2 teaspoon Italian Herb Mix
1 Tablespoon Olive Oil
Slice 2 Tomatoes in half horizontally.
Mound topping onto them and press it firmly.
Place under the broiler until browned.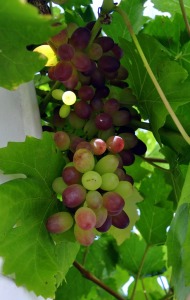 Red Flame Grapes ripening in our garden
These recipes are provided for your personal use. If you publish them, or re-post them, please give me credit. Grazie e Buon Appetito!