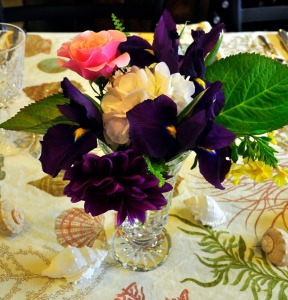 Flowers from our garden

John ordered Gulf Oysters and Crawfish from New Orleans to create this Cajun Birthday Party for me!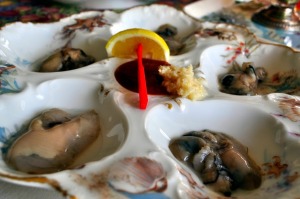 We found these gorgeous Haviland Limoges Oyster Plates at an antique show in Pasadena and thought this was the perfect chance to use them. Chilled Oysters served with Cocktail Sauce, Horseradish, and Lemon.
Butterleaf Lettuce Salad with Orange Vinaigrette
Unfortunately, I didn't get a picture of the salad but it was a lovely counterpoint to the meal. There was plenty of salad dressing left and I think it would make a lovely marinade for Chicken, or Fish.

In a large lidded jar, mix:
1 1/2 cups Orange Juice
1 Shallot, minced
1 teaspoon fresh Thyme leaves
2 Tablespoons Balsamic Vinegar
1/3 cup Olive Oil
1/3 cup Walnut Oil
1 teaspoon Honey
Salt and Pepper, to taste

Butterleaf Lettuce Salad
Line salad plates with Butterleaf Lettuce
Surround lettuce with Mandarin Orange Segments
Sprinkle with Sliced Almonds

Drizzle with Orange Vinaigrette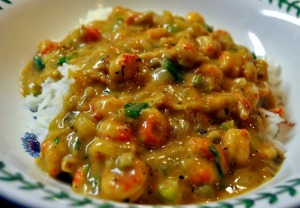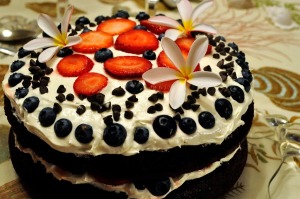 Our niece, Chelsea, made this lovely chocolate cake with Strawberry Yogurt. She topped and filled with Cream Cheese Frosting, Strawberries and Blueberries.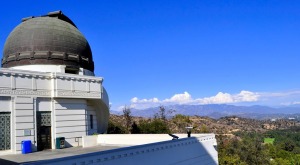 Griffith Observatory, Los Angeles
These recipes are provided for your personal use. If you publish them, or re-post them, please give me credit. Grazie e Buon Appetito!