Add:
1 Tablespoon Peppercorns
2 sprigs fresh Thyme
1 Shallot, minced
Simmer over low heat for 1 1/2 hours until reduced to 1 cup.
Strain.
At this point, the reduction can be refrigerated. It's great for salad dressing, or to drizzle over fish just as is.
Sprinkle 4 – 5 thinly sliced boneless Pork Chops with Salt and Pepper on both sides.
Add 4 tablespoons Olive Oil to a large skillet over medium heat.
When the oil is heated, dredge the Pork Chops in Flour.
Fry for 5 minutes a side until lightly browned.
Remove Pork Chops from pan and cover with foil to keep warm.
Add a little more oil to the pan, if necessary, then saute:
8 ounces Mushrooms, sliced
1 Onion, finely chopped
When the vegetables begin to soften, pour in:
Reserved Wine Reduction
1/2 cup Chicken Broth
Return Pork to pan, turning to coat, and simmering until heated through, about 10 minutes.
Pour in 1/4 cup Cream
Add Salt and Pepper, to taste.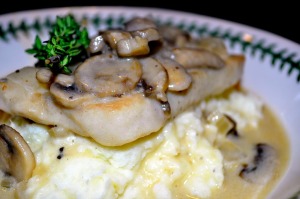 Creamy Potatoes
Sour Cream Mashed Potatoes
Peel and cube 3 – 4 medium Russet Potatoes.
Place them in a medium saucepan and cover with water.
Add about 1 teaspoon of Salt to the water and boil for 15 – 20 minutes over medium-high heat until the Potatoes can be easily pierced with a fork.
Turn off heat.
Strain Potatoes and return to pan.
Add 1/4 cup Butter.
1/2 cup Sour Cream.
Salt and Pepper, to taste.
Mash with a Potato Masher until they reach the desired consistency.

Putting it all together:
Spoon Mashed Potatoes into a pasta bowl.
Place a Pork Chop on them, then ladle sauce and vegetables on top.

Print this recipe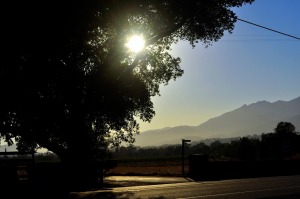 Ojai, California
These recipes are provided for your personal use. If you publish them, or re-post them, please give me credit. Grazie e Buon Appetito!