I love autumn! The crisp, beautiful days, the bounty of the harvest, and delicious days of baking make it perfect. As we look forward to the holidays and time with family and friends, I like to try new recipes and think of how we could all enjoy them together. This delicious, not-too-sweet Pear Crumble would be a perfect dessert for Thanksgiving dinner. I'm thinking of taking it to John's sister's house to share with our family. At this busy time of year, it comes together quickly and easily. I hope you'll enjoy it as much as we did!

We only had four pears, so we halved this recipe and made parfaits in sundae dishes.


1 cup pecan pieces
3/4 cup King Arthur Unbleached All-Purpose Flour
1 teaspoon cinnamon
1/4 cup light brown sugar, packed
1/2 cup rolled oats
1/4 cup (1/2 stick) unsalted butter



Filling


8 Bartlett or red Bartlett pears, peeled, cored, and sliced
1/2 cup light brown sugar, packed
1/4 teaspoon lemon oil or 1 tablespoon fresh lemon juice
1/4 cup King Arthur Unbleached All-Purpose Flour
1/2 teaspoon cinnamon
Preheat the oven to 400┬░F. Grease a 9 x 13-inch baking pan.



The Topping:

Toast the pecan pieces in the oven for approximately 5 to 10 minutes, or until lightly browned and aromatic. Let the pecans cool, and combine them with the flour, cinnamon, brown sugar, and oats. Cut in the butter until the mixture forms coarse crumbs, about the size of peas.



The Filling:

Mix the pears with the sugar, the lemon oil or juice, the flour, and the cinnamon. Pour the filling into the prepared baking pan and sprinkle the topping over it.

Bake the crisp for 30 to 40 minutes, or until the topping has become golden brown and crunchy, and the fruit is bubbly.
Yield: 8 generous servings.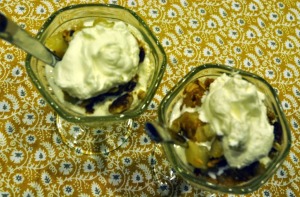 Vanilla Whipped Cream
Whisk together on high speed until thick.
1 cup Heavy Cream
1 teaspoon Vanilla Extract
1/4 cup Powdered Sugar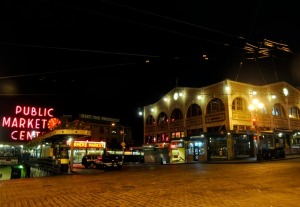 Pike Place Market – early morning
These recipes are provided for your personal use. If you publish them, or re-post them, please give me credit. Grazie e Buon Appetito!