As the weather turns cooler and the days grow shorter, we return to the comforts of home. The amazing aroma of braised meat makes the anticipation of tasting this dish all the more sweet! So, imagine the richness of pork, red wine, tomatoes, and herbs over creamy cheese and warm pasta al dente. It's a heavenly meal to share with family. Serve with good, crusty bread so you can sop up every last bit of the sauce. My brother says it's one of the best things John's ever made.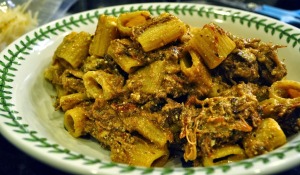 Doesn't that just look delicious?
Our niece, Katie, gave Brigit Binns' book to John for Christmas a couple of years ago and it's amazing. Here's my review on Amazon. Here are some other recipes from her book: Cuban-style Slow-roasted Pork Shoulder with Mojo Sauce, Pepper Steak, Grill-Smoked Pork Shoulder with Spice Rub, Lime & Cilantro Slaw, and Beef Braised in Red Wine. I highly recommend this book as a gift for the meat-lover in your life.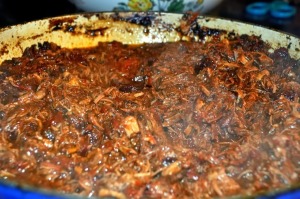 Hot and steamy yummy goodness!
Pork Rib Ragu Tossed with Ricotta and Rigatoni
Adapted from The Cook and the Butcher by Brigit Binns

Preheat oven to 325 degrees.
Sprinkle Salt and Pepper over 3 pounds of Pork Shortribs, separated from each other.

Place a French Oven on the stove, over medium heat.
Saute:
1 Tablespoon Olive Oil
1/2 pound Pork Tasso
When Tasso is heated through, transfer to a plate.

Turn heat up to medium-high and sear the ribs on all sides, in batches.
Place seared ribs on a platter.

Reduce heat to medium, and cook:
1 large Onion, minced
3 ribs Celery, minced
Stir vegetables until softened, then add:
6 cloves Garlic, minced
1 Bay Leaf
3 Sprigs fresh Thyme (or 1 Tablespoon dried)

Deglaze pan with 1 bottle Red Wine (we used Valpolicella)
Bring wine to a simmer, and continue to cook until sauce is reduced by about one-third.
Return Tasso and Ribs to the French Oven.
Add:
1 28-ounce can San Marzano Tomatoes, chopped – for the best flavor, use Italian Tomatoes.
Salt and Pepper, to taste.

Place lid on French Oven and place in the oven.
Bake for 3 hours, checking occasionally and adding a bit of water, if necessary.
Remove pan from the oven, discard bones, and shred meat.

Prepare one pound of Rigatoni, according to package directions.
Strain pasta and toss with:
1 cup Ricotta Cheese
1 cup Parmesan Cheese

When cheese is evenly distributed, ladle in some of the shredded meat sauce.
Only use what you need, because the sauce keeps and freezes well.
Spoon into pasta bowls and top with fresh, chopped Basil, or Italian Flat-leaf Parsley, if desired.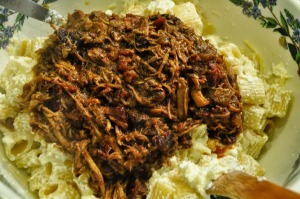 Cheesy Pasta with shredded Pork Ragu

Tip: To save time and keep our hands from smelling like garlic for days, we always use Dorot minced garlic. You keep it in the freezer, so it's always fresh. We buy this at Trader Joe's and have also used the Cilantro and Basil with great success. It's a wonderful way to get fresh flavor when the herbs in our garden aren't in season.


These recipes are provided for your personal use. If you publish them, or re-post them, please give me credit. Grazie e Buon Appetito!