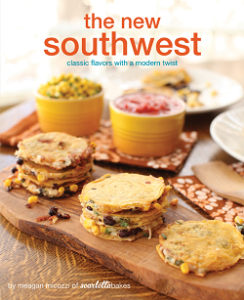 I was thrilled to be asked by Hippocrene Books to review "The New Southwest: Classic Flavors with a Modern Twist" by Meagan Micozzi of Scarletta Bakes fame. I couldn't be happier for her success – seeing our names on the cover of a cookbook is something most food bloggers aspire to.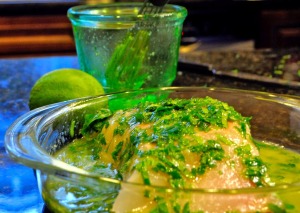 Halibut in Fresh Citrus & Herb Sauce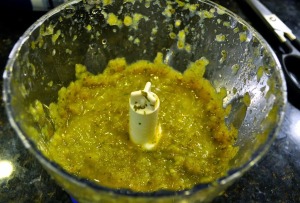 Roasted Chiles, Garlic, and Shallots for the Rice
When Meagan moved from Virginia to Arizona, her culinary curiosity took her on a tour of new taste sensations. She explores kitchens and interviews chefs on her quest to discover all the flavors the Southwest has to offer. Although this journey could last a lifetime, Meagan delights in taking us with her. She makes a good point that the area we used to think of as the Southwest has expanded through food and ease of travel. Still, I was surprised by all the wonderful flavor combinations on the pages of her book. We don't use chiles very much in our cooking, but I think we will now – they're widely available at the Farmers' Market I visit every Sunday morning, so there's no reason not to.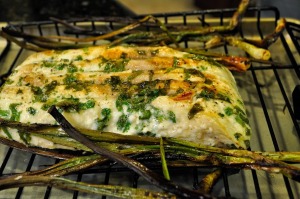 Fresh from the grill with Green Onions
I felt that in order to give this book a thorough review we needed to test some recipes (I should really say that John tested the recipes & I was the sous chef!). We made Meagan's Citrus & Herb Red Snapper (we substituted Halibut but used her seasoning & method) and served it with her Arroz Verde (Green Rice). We grill fresh fish with herbs all the time so expected the Halibut to be just delicious – and it was. For us, the real revelation came when we took that first bite of Arroz Verde! It was SO good that we wondered why we hadn't always made our rice this way. Well, we will from now on especially when we serve Mexican food. This rice was great with fish, but is a ready companion for any kind of main course: enchiladas; pork; beef; tamales; you name it. If you're a fan of Chipotle's Cilantro Lime Rice, you will love Meagan's flavor-infused recipe. We sprinkled a little bit of grated Cotija Cheese on top as well.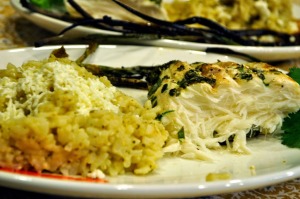 A perfectly seasoned, fresh Southwestern meal!

If you're ready to expand your palate into the Southwest region, this cookbook with take you there. In Arizona and California, it's easy to find fresh chiles year-round, but if you'd like to try some dried versions, Penzeys carries quite a variety and their spices are always the best quality available.
These recipes are provided for your personal use. If you publish them, or re-post them, please give me credit. Grazie e Buon Appetito!