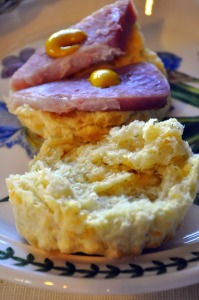 What could be better for breakfast?
One of the wonderful products I've had the chance to try recently is Colman's Mustard. Of course, this fit right in with our style of cooking since John lived in England and Scotland. I really wanted to make my friend Christina's Scottish Sausage Rolls which would be a perfect match for Colman's Mustard. Like everyone, at this time of year, we just have so much going on. So, we decided to showcase these mustards with a delicious breakfast instead (of course, these are American biscuits!).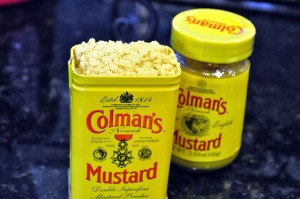 Colman's Mustard has been made in England for 200 years and has has smoother flavor and less vinegar than traditional American mustards. In its dry form, it's great to cook with. This is one of my favorite soup recipes: Cauliflower-Potato Soup. It adds depth of flavor and warmth to all kinds of dishes.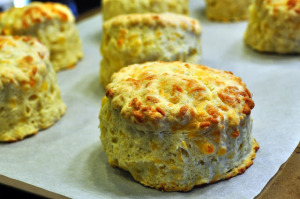 Fresh from the oven!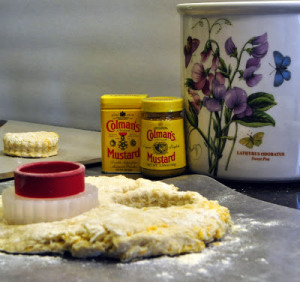 Pressed out dough
Pre-heat the oven to 425 degrees.
Line a baking sheet with parchment paper.

In a medium bowl, stir together:
2 cups Flour
1 teaspoon Colman's Dry Mustard
1/2 teaspoon each Salt & Pepper
1 Tablespoon Baking Powder
1/4 teaspoon Baking Soda
2 teaspoons Sugar

Using a pastry cutter, blend in:
6 Tablespoons Butter

When butter is thoroughly cut into dry mixture, pour in:
3/4 cup Buttermilk
Continue to blend with pastry cutter.
Then add 1/2 cup shredded Cheddar Cheese.
Mix in as well as you can with the pastry cutter and turn out onto a lightly floured piece of wax paper.
Knead in any loose flour and cheese and press dough until it's 3/4″ thick.
Using a 3-inch diameter cutter, cut as many biscuits as you can, then re-work the dough, pressing it out and cutting more biscuits. (I was able to get 7.)
Place biscuits on prepared baking sheet.
Bake for 12 – 14 minutes until golden brown.

Serve biscuits warm.
Split and insert slices of Ham and top with Colman's Mustard.


We've made these biscuits in a variety of sizes. They make a quick breakfast of overnight guests
And, they're a great addition to a brunch or appetizer buffet.

To learn more about Colman's Mustard and additional recipe ideas, visit their website at: http://www.colmansusa.com/

Enjoy!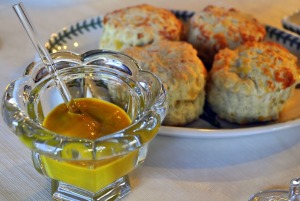 Just delicious!
These recipes are provided for your personal use. If you publish them, or re-post them, please give me credit. Grazie e Buon Appetito!