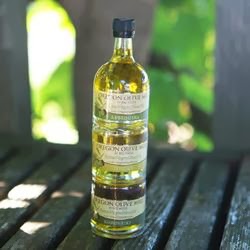 Photo Courtesy of Oregon Olive Mill
When I was asked to feature Oregon Olive Mill's extra virgin olive oil on my blog, I was just delighted! You all know how much we use olive oil to cook with – you really can't beat its flavor and versatility. The sampler they sent to me contained three beautiful stacked bottles with varieties ranging from mildest to most robust from the top down.

In general, it's best to use milder oils for salad dressings and fresh vegetables and darker oils for cooking and finishing meats. So, we decided to create a meal that would use all three oils to their best advantage: Arbequina for Vinaigrette; Koroneiki for Roasted Tomatoes; and Tuscan for Breaded Chicken.

This meal can be made in stages. We roasted and pureed the tomatoes one day and made the rest of the meal the next day.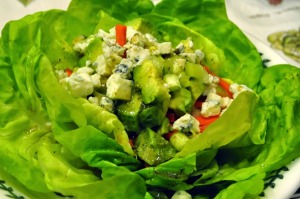 Yummy, fresh salad with light vinaigrette
Line salad bowls with Butter lettuce leaves.
Thinly sliced Green Onions
Preheat oven to 450 degrees.
Line a large, rimmed baking sheet with foil.
Quarter 3 pounds Roma Tomatoes.
Place in the oven for one hour.
Scoop tomatoes and juice into a food mill fitted with the medium plate.
This will yield about 4 cups.
At this point, you can cover the puree and chill it.
Otherwise, proceed with the recipe.
In a medium saucepan, saute:
When Onions are softened, s
tir in reserved Tomato Puree.
Continue to stir until sauce is heated through, then add 3 teaspoons
Basil, minced.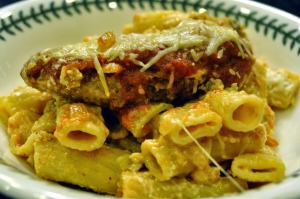 Perfect comfort food for a cool winter evening – creamy and delicious!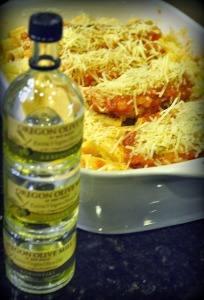 Ready for the oven!
Preheat oven to 350 degrees.
Cook a 1-pound box of Rigatoni according to package directions.
When pasta is coated with cheeses, stir in about 3 cups Roasted Tomato Sauce.
Spray a 9 – 13-inch baking pan with non-stick spray and spread pasta in an even layer.
While pasta is cooking, butterfly 2 Boneless Chicken Breasts and sprinkle both sides with salt and pepper.
In a shallow bowl, stir together 1 cup of Breadcrumbs with 1 teaspoon
Italian Herb Mix
.
In a large skillet, over medium heat, pan-fry the breaded chicken in 3 – 4 Tablespoons Tuscan Olive Oil, until lightly browned, about 8 minutes on each side.
Place 4 pieces of chicken evenly spread on top of pasta.
Distribute remaining Roasted Tomato Sauce evenly on top of them, then sprinkle some grated Parmesan Cheese on top of each one.
Bake for 20 minutes until cheese is nicely melted.
Spoon pasta and one piece of chicken into pasta bowls.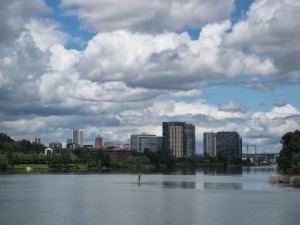 View of downtown Portland from the Willamette River from our trip last June.
These recipes are provided for your personal use. If you publish them, or re-post them, please give me credit. Grazie e Buon Appetito!