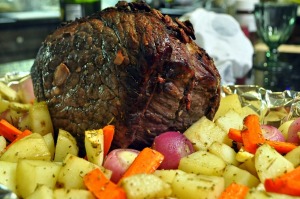 Just out of the oven!
Marinate a 3 – 4 pound Eye of Round (or other boneless beef roast) in:
1 bottle of hearty Red Wine
3 Tablespoons Dried Shallots
4 Tablespoons Roasted Garlic Slices
2 sprigs Rosemary
Turn roast every half hour for 2 hours.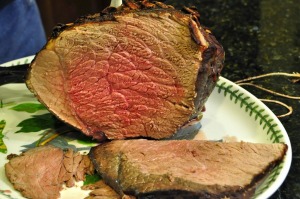 Just perfect and it smells so delicious!
In the meantime, peel and cut up:
4 Carrots
4 Russet Potatoes
2 Parsnips
10 purple Boiler Onions

Place them in a large bowl and toss with:
Salt and Pepper
1 Tablespoon dried Rosemary
3 Tablespoons Olive Oil

Preheat oven to 325 degrees.
Remove roast from wine marinade and sprinkle with Salt & Pepper on all sides.
Center roast on a rack in a roasting pan and pour wine and spices over it.
Surround with seasoned vegetables.
Bake for 2 hours (adjusting for your preference).
Let roast sit for 10 minutes before carving.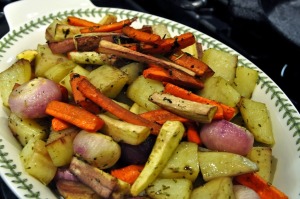 Roasted Root Vegetables seasoned with Rosemary and Olive Oil
While roast is sitting, strain wine sauce into a small saucepan and stir in:
1 teaspoon Demerara Sugar
2 teaspoons Beef Demi-Glace
2 Tablespoons Wondra Flour
Salt and Pepper, to taste

Place thinly sliced Roast Beef and vegetables on plate and spoon Wine Sauce over them. Unfortunately, after smelling this for over 2 hours, I was too hungry to take a photo of the plated meal! LOL!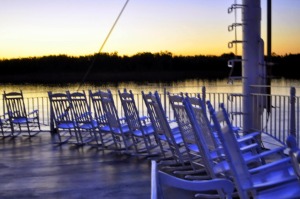 Sunset on the lower Mississippi River from the deck of the American Queen
These recipes are provided for your personal use. If you publish them, or re-post them, please give me credit. Grazie e Buon Appetito!