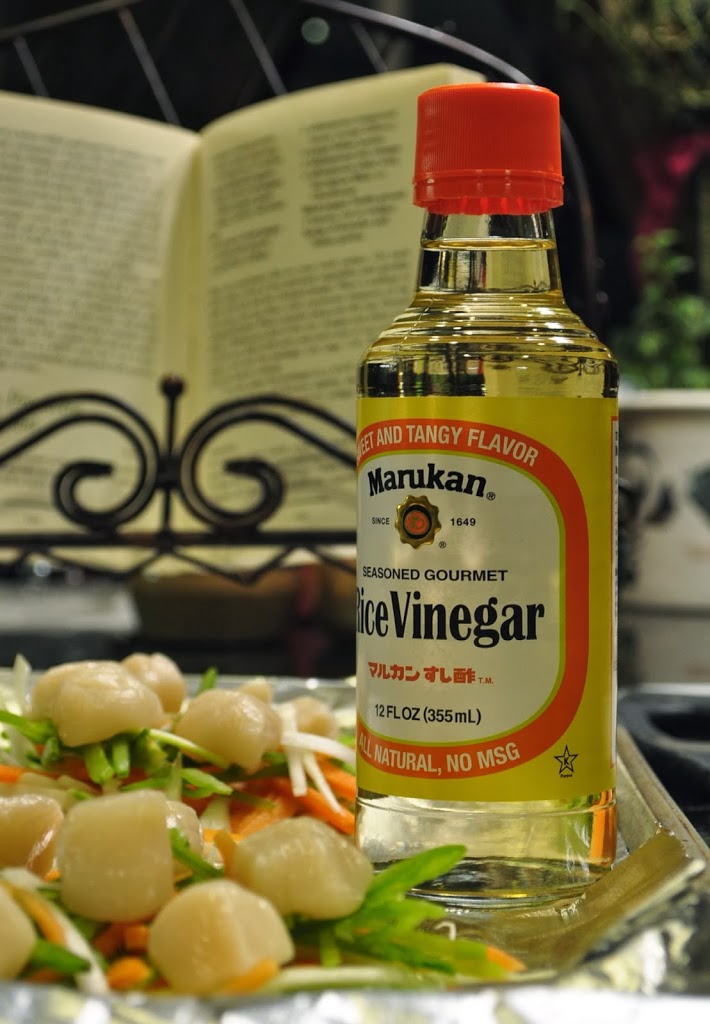 Marukan Seasoned Gourmet Rice Vinegar lends a slightly sweet depth of flavor to this recipe.
I was excited to receive a beautiful gift box of Rice Vinegar in the mail from Marukan. It contained their signature Seasoned Gourmet Rice Vinegar and Genuine Brewed Rice Vinegar. We wanted to make something unusual to feature the Seasoned Gourmet Rice Vinegar so I turned to The Good Cook's Book of Oil and Vinegar by Michele Anna Jordan where I found a great recipe for Scallops. As you know, cooking en papillote is one of our favorite methods for a weeknight.

This flavor combination is wonderful. It's lightly sweet and savory at the same time. The vegetables are slightly crunchy and the scallops are tender. Here is our version of the recipe.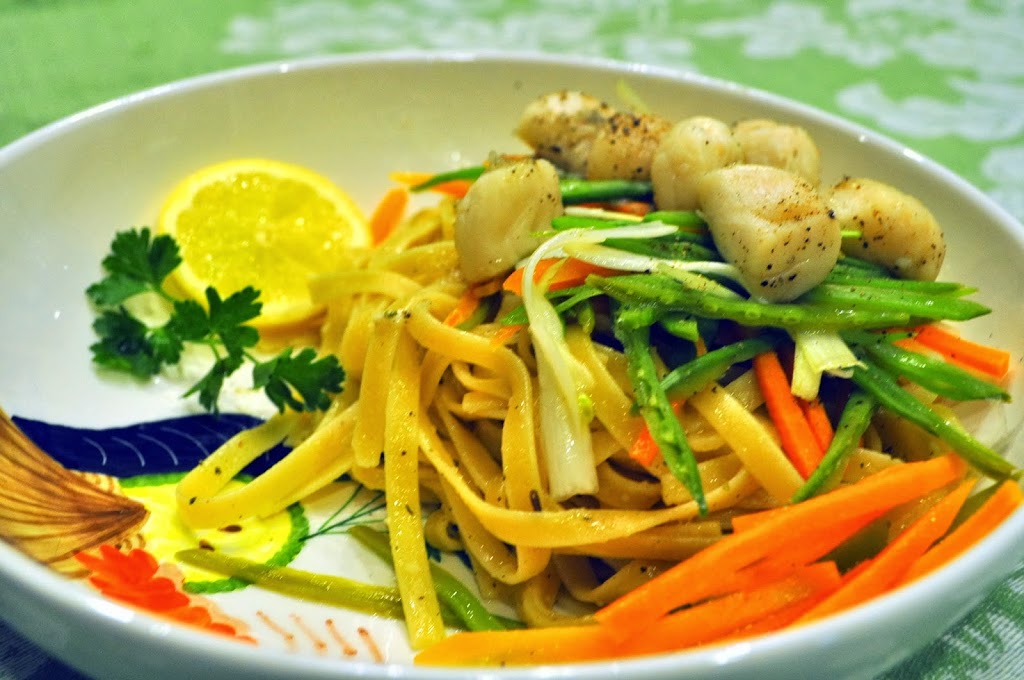 The wonderful taste of Springtime!
Scallops en Papillote over Fettuccine
Herbed Butter
In the bowl of a food processor, fitted with a blade, place:
1 stick butter
1 Shallot
1 clove Garlic
1 teaspoon Herbes de Provence
1/2 teaspoon Orange Zest
1/2 teaspoon Sugar
Salt & Pepper
Whip until thoroughly combined and set aside.
You will have more that you need but it will keep for several days in the refrigerator, or can be frozen.
Preheat the oven to 375 degrees.
Place two 12″ x 12″ pieces of foil on a rimmed baking sheet.

Fold the foil in half and open it up.
Set aside.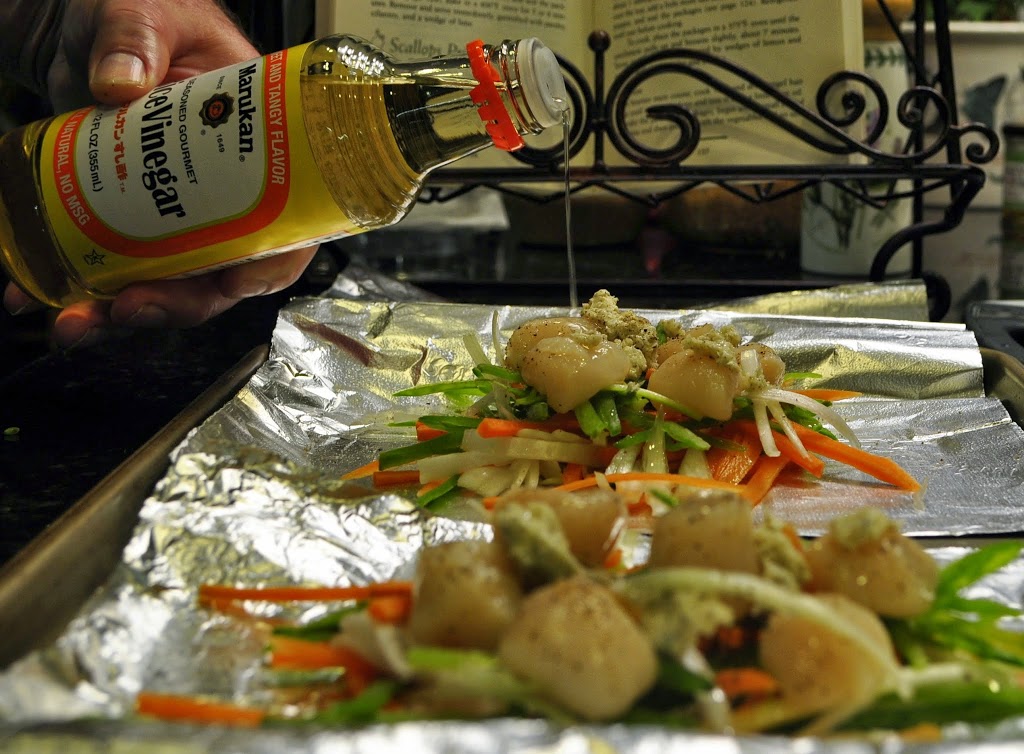 Clean and julienne:
1 Mexican Onion – white and light parts (or 4 Green Onions)
About 25 Snow Peas
3 Carrots
Toss together to evenly distribute the vegetables.

Center half of the vegetables in the middle of one side of the foil.
Top vegetables with 1 teaspoon Herbed Butter.
Place 6 – 8 Bay Scallops on top of vegetables.
Top with another teaspoon Herbed Butter.
Drizzle with:
1 Tablespoon White Wine
2 teaspoons Marukan Seasoned Gourmet Rice Vinegar
Sprinkle with Salt & Pepper
Top with a sprig of Italian Parsley

Fold top of foil over the and seal the edges all the way around.

Bake for 9 minutes.

While Scallops pouches are baking, cook 1/2 pound Fettuccine according to package directions.
Drain fettuccine and toss with 3 – 4 Tablespoons of Herbed Butter.
Twirl Fettuccine in the center of each bowl to make a nest.
Open foil pouches and use a spatula to move vegetables and scallops on top of pasta.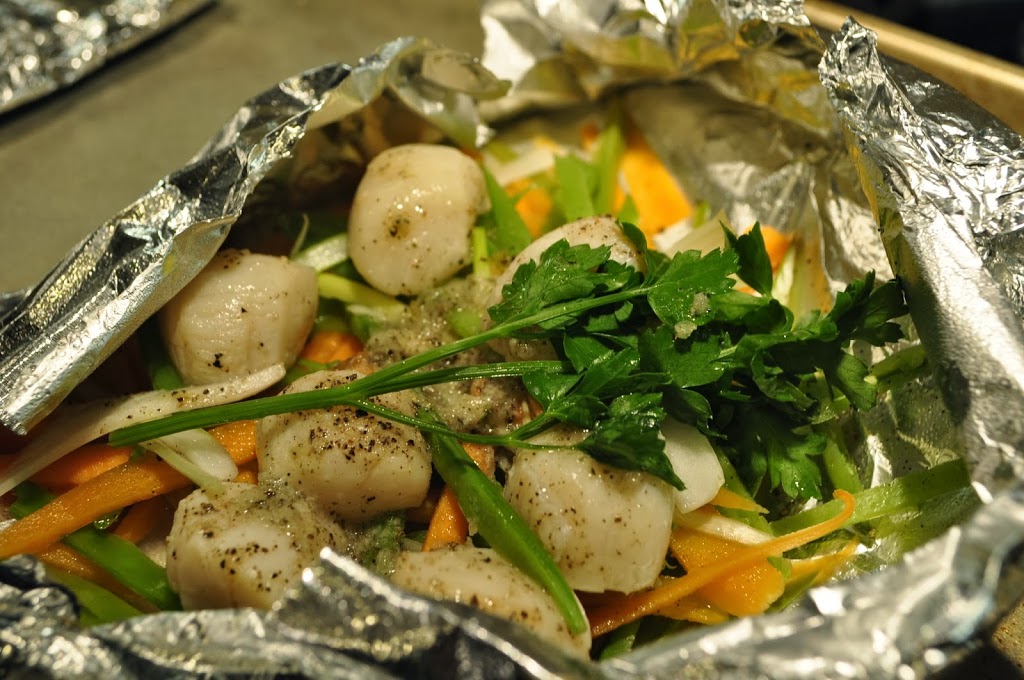 Fresh from the oven!
We think this recipe would work equally well with Chicken or Shrimp.



For another wonderful way to enjoy Marukan Seasoned Gourmet Rice Vinegar, check out our
These recipes are provided for your personal use. If you publish them, or re-post them, please give me credit. Grazie e Buon Appetito!