I love quiche.  I've used this recipe for many years to make full-size, individual, and mini quiches.  I make the mini quiches in a mini muffin tin – this recipe will make 2 dozen.  They're perfect for appetizers and tea parties.  Quiche is so versatile – it's good for breakfast, lunch, and dinner.  It also keeps and reheats well.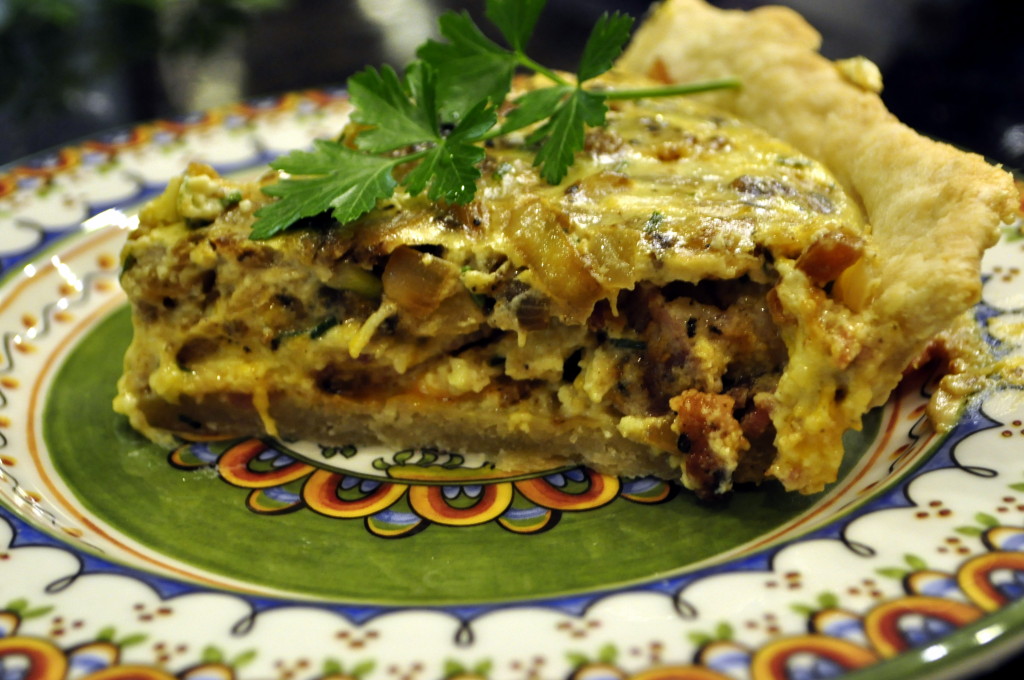 This was my go-to pie crust recipe for years until I tried the Baked Classic Pie Crust.  The major difference is Crisco vs. Butter.  As you can imagine, the butter crust is just delicious.  But this crust bakes up nice and flaky, too.

Pie Crust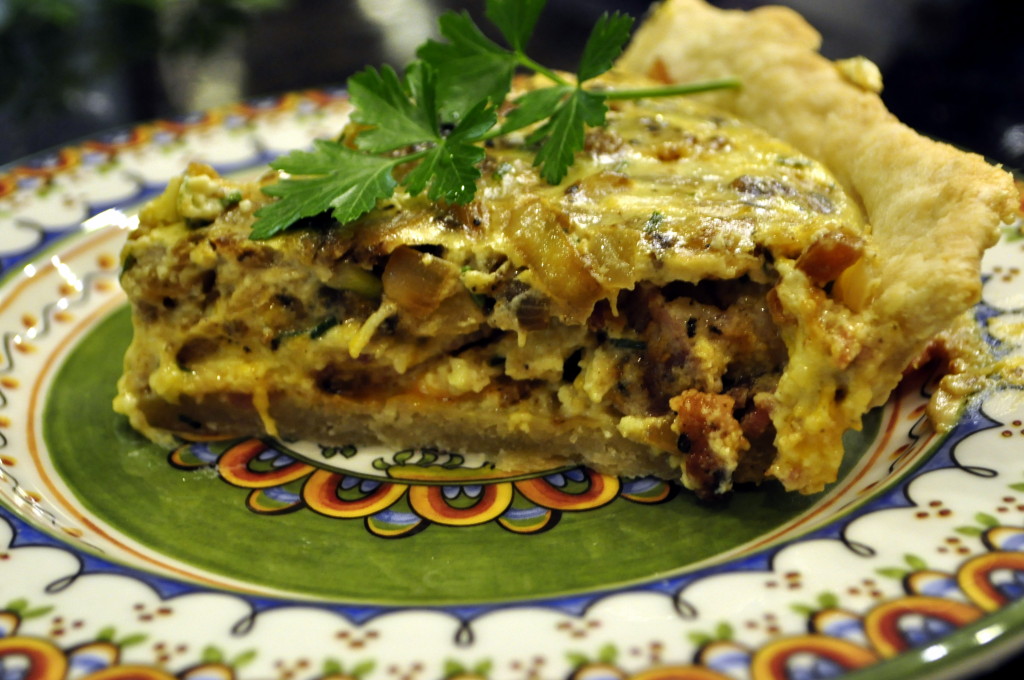 This recipe can easily be doubled. If you're only making one quiche, you can make two and freeze one for later.
Ingredients
1¼ cup Flour
1 teaspoon Cornstarch
1 teaspoon Salt
⅓ cup Shortening (I use Crisco)
¼ cup Ice Water
Instructions
Preheat oven to 375 degrees.
In a medium mixing bowl, using a pastry cutter, blend the flour, cornstarch, and salt.
Cut shortening in until you have a coarse crumb.
Blend in water one tablespoon of water at a time until dough is soft and easy to handle, but not sticky.
Roll out to fit your pie plate.
For a rustic crust, press into pie plate, poke the bottom of the crust with a fork and cover it with foil.
Bake for 10 minutes.
Start to prepare filling while the crust is in the oven.
Remove crust from oven and set aside.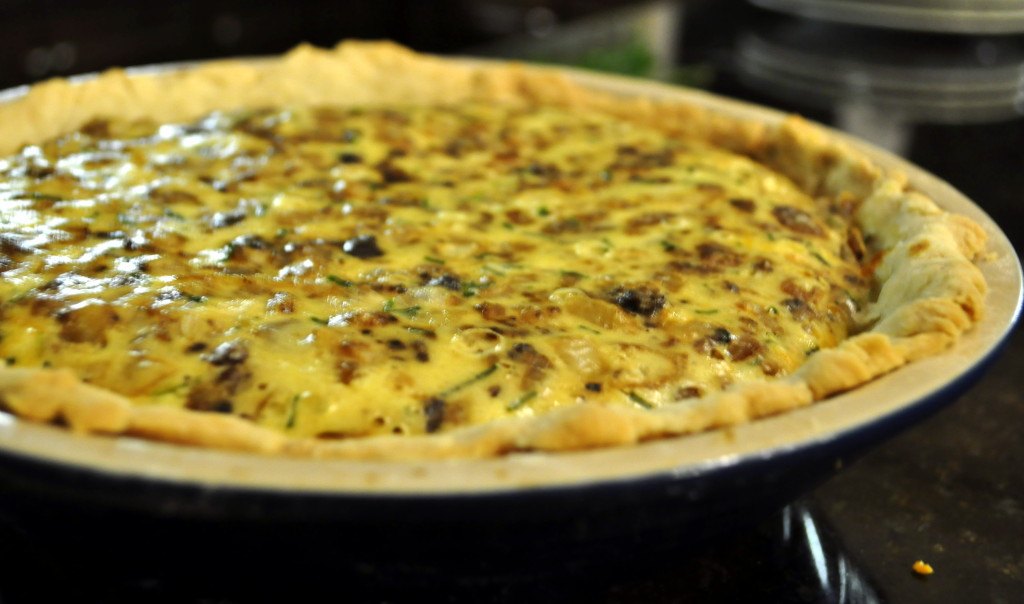 This recipe easy to make with any number of ingredients we have in our refrigerator or pantry – which basically amounts to eggs, cheese, milk, sometimes meat, and sometimes vegetables.  I've used this recipe for years.  Quiche is such a versatile, savory tart.  All you need is some fresh fruit or a salad and you've got a lovely, light meal.

Bacon, Cheddar, and Chive Quiche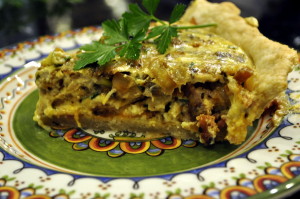 You can use ham, shrimp, or crab instead of bacon, but you'll need to add ½ stick butter to replace the fat the bacon provides. You can add asparagus, spinach, tomatoes, broccoli, artichokes, and all kinds of vegetables. You can also use a wide variety of cheeses and fresh herbs.
Ingredients
1 blind-baked Pie Crust
¼ pound Bacon, diced
½ medium Onion, finely diced
1½ Tablespoons Flour
1 cup shredded Cheddar Cheese
2 Eggs
½ cup Sour Cream
½ cup Cream (or Whole Milk)
1 Tablespoon fresh Chives, minced
¼ teaspoon Nutmeg, freshly gound
Salt and Pepper, to taste
Instructions
Dice bacon and fry in a medium pan over medium heat until crisp.
Remove bacon from pan and place on a paper towel lined plate.
Drain all but 2 Tablespoons bacon fat.
Saute onion in remaining bacon fat.
When onion softens, sprinkle with flour and stir until it forms a roux.
Remove from heat.
In a medium mixing bowl, whisk eggs with sour cream and cream.
Add chives, salt, pepper, and nutmeg.
Scatter bacon over the bottom of the crust and top with cheese.
Pour egg filling evenly over them.
Bake for 30 minutes, or until it's set in the middle.
Allow quiche to sit for 10 minutes before slicing.
 Bon Appetit!