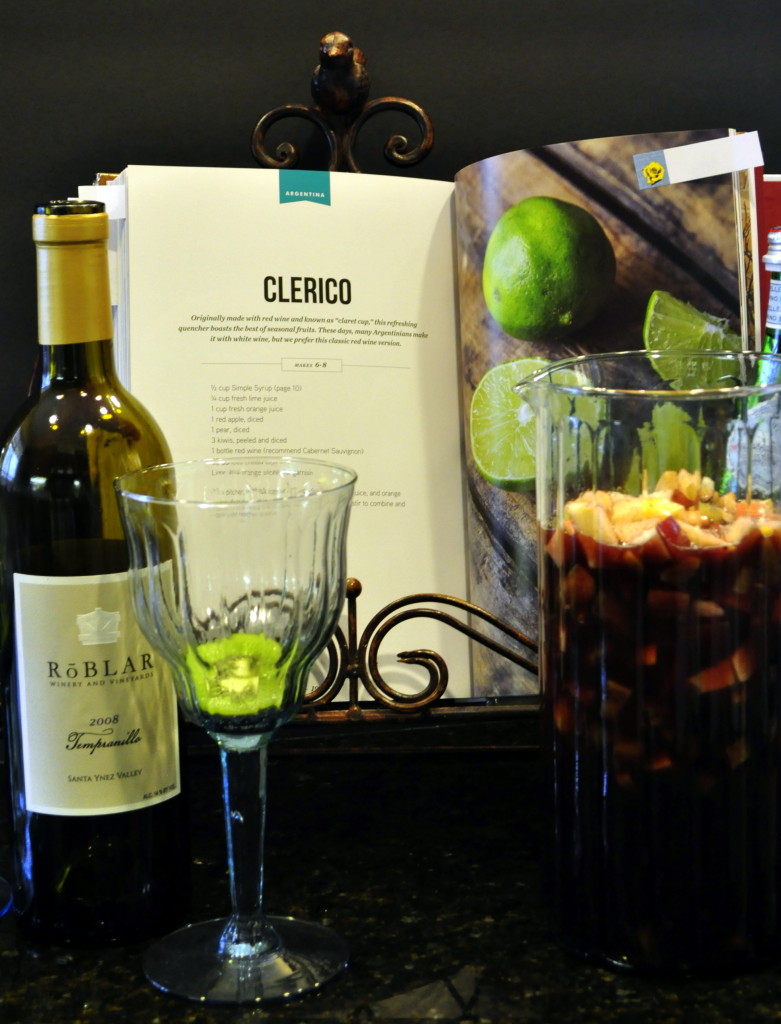 Having just booked a trip to Barcelona, I was in the perfect frame of mind to peruse "Latin Twist!" Hippocrene Books sent me a review copy of this joint creation of Vianney Rodriguez and Yvette Marquez-Sharpnack that's filled to the brim with 97 tropical drinks and fresh flavor combinations from 19 different countries. One of the best features of this book is the map that shows which country each drink is derived from.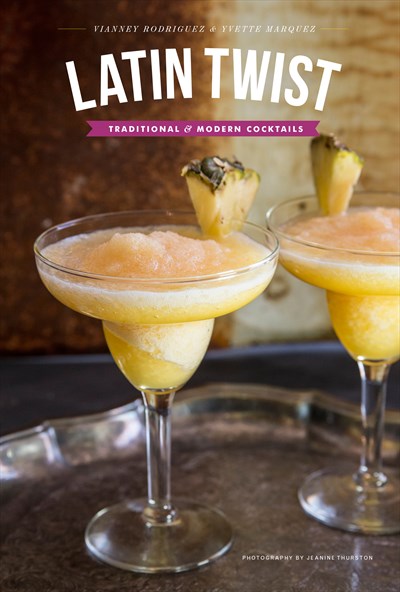 It delves into the history of each country's special ingredients, wines, and liquors, and includes recipes for traditional drinks as well as the authors' original creations. Try a luscious Passion Fruit Caipirinha from Brazil, Chile's fruity Borgo├▒a, or Argentina's national drink, the deceptively simple Fernet con Cola. ~ Press Release

You can also just add club soda to the glasses as you serve the Clerico.
John and I loved "Muy Bueno," and it's become our go-to cookbook for homemade Mexican food, so we were sure that we'd find something to enjoy in Latin Twist with Yvette's influence. With so many choices, we settled upon Clerico to start with. It's a lightened up version of Red Sangria and is absolutely perfect for sipping in your summer garden. We followed the recipe, but think you could really change it up with different fruits.

Clerico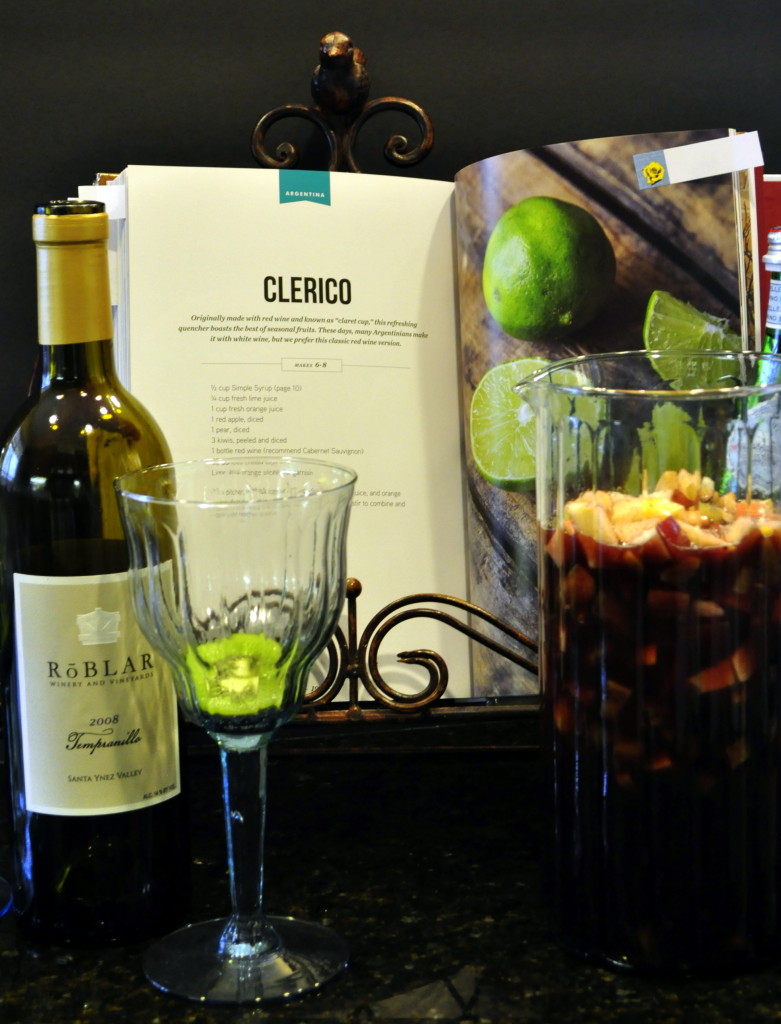 Author:
Yvette Marquez-Sharpnack and Vianney Rodriquez
Originally made with red wine and known as "claret cup," this refreshing quencher boasts the best of seasonal fruits. These day, many Argentinians make it with white wine, but we prefer this classic red wine version.
Ingredients
½ cup Simple Syrup
¼ cup fresh lime juice
1 cup fresh orange juice
1 red apple, diced
1 pear, diced
3 kiwis, peeled and diced
1 bottle red wine (recommend Cabernet Sauvignon)
32 ounces chilled club soda
Lime and orange slices for garnish
Instructions
In a pitcher, whisk together Simple Syrup, lime juice, and orange juice.
Add diced fruit, red wine, and club soda, stir to combine and chill until ready to serve.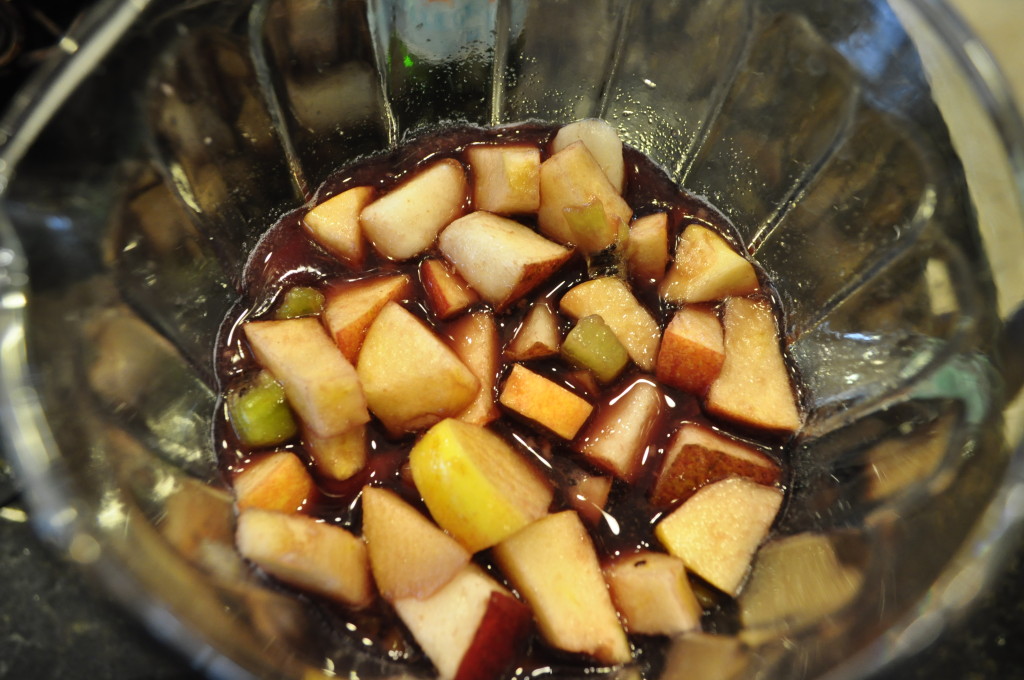 Another great feature of this book is the inclusion of recipes for Simple Syrup, Homemade Sweet-and-Sour Margarita Mix, and Fresh Coconut Milk. With summer just around the corner, you're sure to find some great recipes for entertaining!
A tu salud!