Stuffed Pork Chops with Sauteed Spinach and Steamed Rice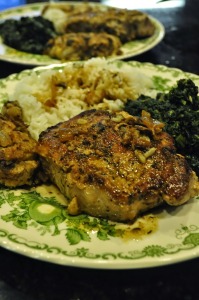 For the Filling
2 Tablespoons Butter
1 apple, finely diced
1 small Onion, finely diced
6 mushrooms, finely diced
Pinch of Thyme
Salt & Pepper, to taste
½ cup Bread Crumbs
2 Tablespoons Chicken Broth.
4 thick-cut boneless Pork Chops
3 Tablespoons Olive Oil
For the Sauce
½ cup Chicken Broth
½ cup Dry White Wine
1 Tablespoon Whole Grain Mustard
For the Filling
In a medium skillet, saute butter, apple, onion, mushrooms, thyme, salt and pepper
When vegetables and apple begin to soften, stir in bread crumbs.
Then moisten with chicken broth.
Stir until everything sticks together, adding a bit more broth, if needed.
Remove from heat.
Cut pockets into 4 thick-cut boneless Pork Chops
Fill with as much stuffing as possible.
Sprinkle Pork Chops with Salt & Pepper.
In a large frying pan, heat olive oil over medium heat,
Fry Pork Chops for 7-8 minutes per side until nicely browned.
Move Pork Chops from skillet to serving platter and cover with foil.
[b]For the Sauce[/bb
Turn heat up to high and add chicken broth, wine, and .mustard.
Boil for about 3 minutes, whisking until fully combined.
Pour sauce over Pork Chops and serve immediately.
Recipe by
Create Amazing Meals
at http://createamazingmeals.com/2014/10/stuffed-pork-chops-with-sauteed-spinach-and-steamed-rice.html