Madeira Pork Chops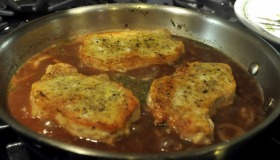 ½ teaspoon Herbes de Provence
Salt, Pepper, and Garlic Powder, to taste
3 Tablespoons of Olive Oil
1 Onion, finely chopped (or 1 leek, or 3 green onions, sliced into rings)
½ cup Madeira wine.
1 cup Chicken Broth
Fresh Parsley for garnish
Place flour, salt, pepper, garlic powder, and Herbes de Provence in a gallon-size Ziploc bag and shake until thoroughly combined.
Add pork chops and shake bag until they're fully coated (this creates the double advantage of sealing in the flavor and thickening the sauce).
Warm olive oil In a large skillet, over a medium-high flame, heat.
Add the pork chops to the pan.
Cook about 8 minutes per side until white through.
Add finely chopped onion and stir until it begins to soften.
Reduce heat to medium.
Remove Pork from pan and add Madeira wine to deglaze pan.
Then stir in chicken broth.
Continue to stir until sauce thickens.
Return Pork to pan, turning to coat for a few minutes until warmed through.
Place Pork on dinner plates and cover with sauce.
Sprinkle with a little fresh parsley.