Potatoes au Gratin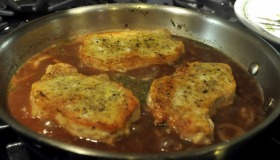 Pre-heat oven to 375 degrees.
½ cup Butter.
½ cup flour
Salt and Pepper, to taste
Pinch of ground Nutmeg
4 cups Milk
4 Russet Potatoes, thinly sliced
1 Onion, thinly sliced
2 cups Cheddar Cheese, grated
½ cup Parmesan Cheese, grated
Pre-heat oven to 375 degrees.
In a large saucepan, over medium heat, melt butter.
Whisk in flour, salt, pepper, and nutmeg
When flour absorbs butter, gently whisk in 4 cups Milk.
Stir continuously for about 8 minutes until sauce thickens, then remove from heat.
Spray a 9 x 13-inch baking pan with non-stick spray.
Pour enough sauce in the bottom of pan to thinly coat it.
Thinly slice Russet Potatoes and onion (I used my mandolin for this - even slices ensure even baking).
Add one layer of potatoes.
Scatter sliced onions.
Cover with grated cheese.
Cover with cream sauce.
Repeat.
Cover with foil and bake for 40 minutes.
Remove foil and sprinkle top with grated Parmesan cheese.
Return to oven and continue to bake for 20 minutes, or until potatoes can be pierced easily with a fork.
Allow to set for about 10 minutes before serving.