Crab Corn Chowder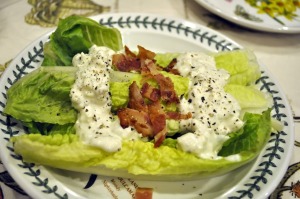 6 cobs corn
4 Slices Bacon
1 Red Onion
1 Clove Garlic.
2 Tablespoons Flour
1 pound Red Potatoes, cut into 1-inch cubes
3½ Cups Chicken Broth
2 Cups Half-and-Half
1 pound Crab Claw Meat
2 Tomatoes, diced
10 Basil leaves, chiffonade
Strip Corn from 6 cobs - reserve cobs
In a stockpot,over medium-high heat fry Bacon.
Set bacon aside, then saute onion in Bacon Fat.
When onion begins to soften, stir in Garlic.
Add Flour, stirring to coat onions.
Stir in Chicken Broth, Half-and-Half, Corn, Corn Cobs, Red Potatoes.
Bring to a boil over high heat.
Reduce heat, cover, and simmer for 15 minutes, or until potatoes are easily pierced with a fork.
Remove and discard corn cobs.
Stir in Crab Claw Meat, Tomatoes.
Top with Crumbled Bacon and Basil.