Pomegranate Rose Granita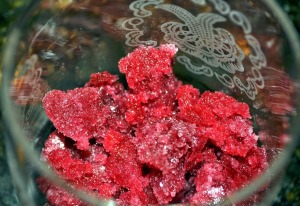 Recipe type:
Frozen Treat
3 cups Pomegranate Juice
¾ cup Sugar
¾ cup V. Sattui Gamay Rouge
1 Star Anise
In a medium saucepan over medium heat, stir together all ingredients.
Stir until sugar is dissolved, then reduce heat to low and simmer for 15 minutes.
Remove the Star Anise, then pour the syrup into a shallow dish with a tight-fitting lid.
Place in the freezer and stir every 3 hours, or so.
Freeze for at least 8 hours.
Right before serving, scrape with a fork to fluff.
Serve in ice cream dishes for dessert.
Or, serve in wine glasses with Gamay Rouge poured over it for a refreshing cocktail!
It's delicious either way!