White Peaches in Late Harvest Pinot Blanc Reduction Syrup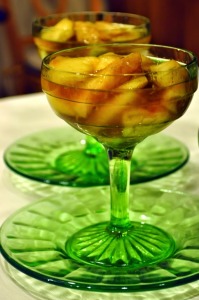 1 375ml bottle Nicolaysen Family Vineyards Late Harvest Pinot Blanc (or other sweet dessert wine)
½ cup Water
½ cup Sugar
1 Star Anise
1 Cinnamon Stick
3 - 4 drops Orange Oil (or 1-inch slice of Orange Peel)
6 Black Peppercorns
Combine all ingredients in a medium saucepan over medium heat.
When sugar dissolves, reduce heat to low and simmer until liquid reduces by half, about 15 minutes.
While Syrup is simmering, peel and slice 4 White Peaches into a large bowl.
Allow Syrup to cool for about 10 minutes, then pour over sliced Peaches.
Steep for at least ½ hour.
Serve in champagne saucers.
Recipe by
Create Amazing Meals
at http://createamazingmeals.com/2014/06/white-peaches-in-late-harvest-pinot-blanc-reduction-syrup.html