Chocolate Raspberry Truffle Squares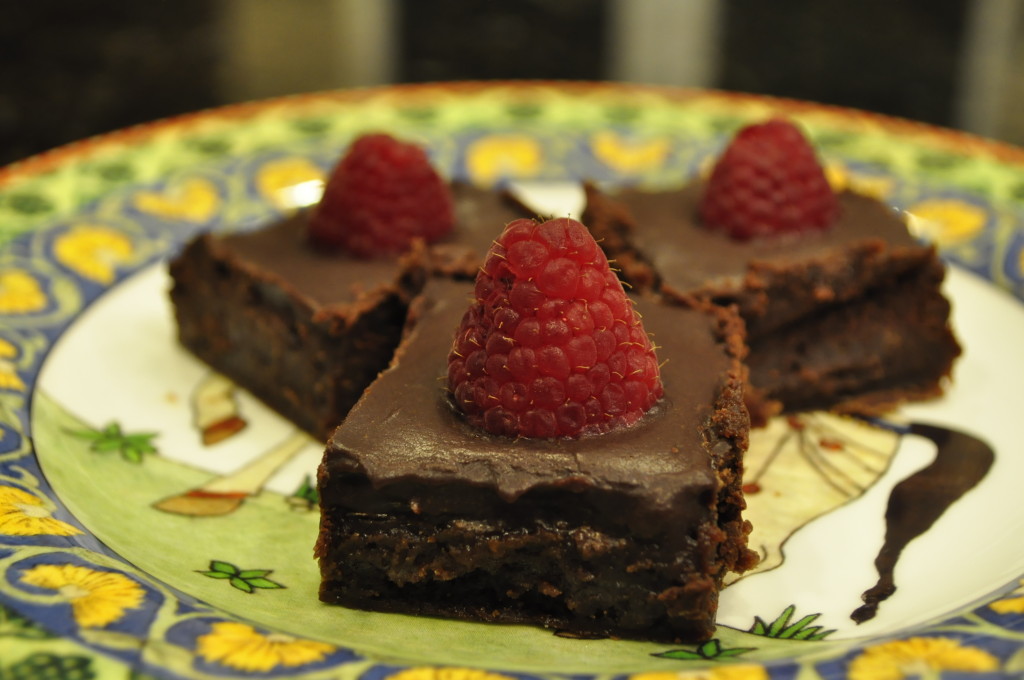 Brownie Base
3 1-ounce (30g) Squares Unsweetened Chocolate
⅓ cup (75 ml) Butter
¼ cup (60ml) Raspberry Jam
2 Eggs
1 cup (250 ml) Granulated Sugar
1 tsp(5 ml) Vanilla
½ cup (125 ml) Flour
Topping
2 TBSP (30 ml) Heavy 35% Cream
2 TBSP (30 ml) Raspberry Jam
2 TBSP Butter
4 1-ounce (30 g) Squares Semisweet Chocolate, Chopped
1 cup (250 ml) Fresh Raspberries
To Make Base:
Preheat oven to 300 degrees F (180 C).
Line an 8-inch (20 cm) square pan with foil; grease and set aside.
Combine chocolate, butter, and jam in a saucepan. Stir over low heat until smooth.
Remove from heat.
Beat eggs in a large bowl until foamy.
Mix in sugar, vanilla and chocolate mixture.
Stir in flour, just until blended.
Spread batter evenly in pan and bake for 20 to 35 minutes or until set.
Cool completely in pan on a rack.
To Make Topping:
Combine cream, jam and butter in saucepan.
Heat to a simmer, stirring constantly until melted.
Remove from heat and add chocolate, stirring until smooth.
Let stand until cool but still soft, about 30 minutes.
Spread topping over brownie base.
Immediately top with raspberries and chill until cold.
Cut into small squares.
Recipe by
Create Amazing Meals
at http://createamazingmeals.com/2015/01/cookbook-review-best-bridge-holiday-classics.html