Chicken Brochettes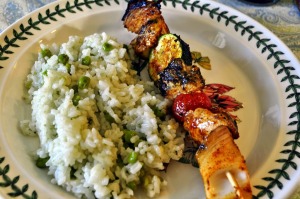 For the sauce:
2 Tablespoons Old World Central Street seasoning
2 Tablespoons of water
2 Tablespoons Olive Oil
For the Brochettes
2 skinless, boneless Chicken Breasts, cut into 1" cubes.
2 Zucchini, cut into ½-inch rings.
1 Red Onion, cut into wedges.
12 Cherry Tomatoes
Soak 8 bamboo skewers in warm water for 1 hour.
Reconstitute Old World Central Street seasoning in water for 5 minutes.
Then whisk in Olive Oil
Build Brochettes alternating each item on the prepared skewers.
Place Brochettes in a rimmed pan and brush thoroughly with sauce.
Heat grill to medium.
Grill Brochettes for 5 - 7 minutes per side.