Herbed Rice with Fresh Peas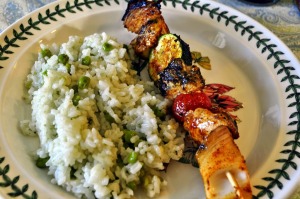 1 Tablespoon Butter
2 Tablespoons Onion, finely minced.
1 Cup short grain Rice
2 cups water
2 Tablespoons Lake Shore Drive Seasoning
½ cup fresh Peas (You can use frozen peas, too. Just microwave them, then stir into the cooked rice at the end.)
Herbed Rice with Fresh Peas
Over medium heat in a medium saucepan, saute onions in butter.
When Onion is softened, stir in short grain Rice and stir until lightly browned.
Then stir in water, Lake Shore Drive Seasoning, and fresh Peas.
Bring to a boil, then reduce heat to a simmer, cover and cook for 20 minutes.
Turn heat off, allow rice to sit for 5 minutes, then fluff with a fork.
Recipe by
Create Amazing Meals
at http://createamazingmeals.com/2014/06/chicken-brochettes-and-herbed-rice-with-fresh-peas.html