Rosemary Bleu Cheese Brandy Sauce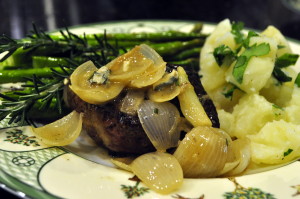 3 tablespoons Butter
8 Pearl Onions, quartered
3 Garlic cloves, minced
½ cup Beef Broth
¼ cup Brandy
1 teaspoon minced fresh rosemary
4 ounces Fromager d'Affinois Bleu
Salt and Pepper, to taste
Fresh rosemary sprigs
Melt butter in a medium skillet over medium-high heat.
Add onion and garlic and sauté until onions are softened.
Add broth, brandy, and rosemary and bring to boil.
Boil until liquid is thick enough to coat spoon lightly, about 5 minutes.
Add cheese and stir just until it melts.
Add salt and pepper, to taste.
Spoon sauce over prepared steaks.
Garnish with rosemary sprigs.
Recipe by
Create Amazing Meals
at http://createamazingmeals.com/2015/02/product-review-fromager-daffinois.html