Lemon Lavender Mint Madeleines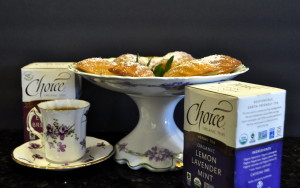 5 tablespoons butter, melted
4 teabags, Lemon Lavender Mint Tea
¾ cup all purpose flour
½ teaspoon baking powder
Pinch of salt
2 large eggs
⅓ cup sugar
2 tablespoons honey
2 teaspoons vanilla extract
½ teaspoon finely grated lemon peel
Butter to grease the pan.
Powdered sugar to sprinkle over finished cakes.
Line a small strainer with damp cheesecloth and set it over a small bowl.
Melt butter in in the microwave (30 seconds).
Open tea bags, stir tea into melted butter and let steep for 10 minutes, then pour mixture into strainer.
Twist cheesecloth tightly around tea to release tea-flavored butter into bowl.
In a medium mixing bowl, whisk eggs and sugar until thickened.
Add honey, vanilla, and lemon peel, whisking until fully combined.
Fold in flour, baking powder, and salt.
Then stir in tea-flavored butter.
Cover batter with plastic wrap and at least 3 hours (can be made a day ahead).
Preheat oven to 400°F.
Coat a 12-cavity madeleine pan with butter.
Divide batter equally among cavities.
Bake madeleines until golden and tester inserted into center comes out clean, about 10 minutes.
Remove from pan and sprinkle with powdered sugar.
Madeleines are best eaten the day they're made.
Recipe by
Create Amazing Meals
at http://createamazingmeals.com/2015/03/product-review-choice-organic-teas.html