Product Review: Ground 2 Table Spice Blends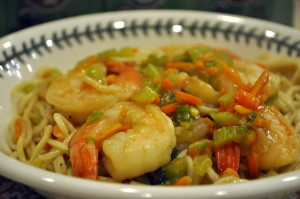 1 12-ounce package Chow Mein Udon noodles
1 pound Large Shrimp
2 Tablespoons Vegetable Oil
2 Carrots, shredded
4 ribs Celery, finely diced
1 bunch Green Onions (8 - 10), thinly sliced
2 cloves Garlic, minced
Salt and Pepper, to taste
Sauce
1 cup Seafood Broth
2 Tablespoons White Sherry
3 Tablespoons Soy Sauce
3 - 4 dashes Sriracha
1 Tablespoon Cornstarch, mixed with 2 Tablespoons Water
Stir together seafood broth, sherry, soy sauce, Sriracha and cornstarch paste. Set aside.
If using frozen shrimp, thaw under running water.
Prepare noodles according to package directions.
While noodles are cooking, heat oil in a wok over medium-high heat.
Test the oil by placing a single piece of celery in the wok. When it dances, the oil is hot enough.
Add celery and carrots to the wok, stirring until they begin to soften.
Then stir in onions and garlic.
Add shrimp and seasoning.
Stir until shrimp is cooked, if raw (or heated through, if cooked).
Pour sauce over shrimp and vegetables and cook until sauce begins to thicken.
Strain noodles and toss with shrimp and vegetables until thoroughly combined.
Enjoy steaming hot!
Recipe by
Create Amazing Meals
at http://createamazingmeals.com/2015/03/product-review-ground-2-table-spice-blends.html