Pork and Vegetable Eggrolls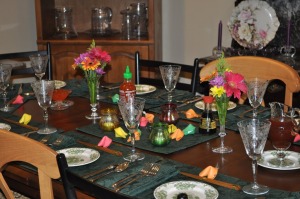 Filling
1 pound Pork Loin, finely minced
3 Tablespoons Soy Sauce
Salt & Pepper, to taste
2 Tablespoons Canola Oil
½ pound mixed Sprouts
1 Cup Green Onions cut into 1-inch pieces, then cut again vertically
1 Cup Celery, finely diced
1 Cup Carrots, julienned
2 cloves Garlic, minced
Eggrolls
24 Eggroll Wrappers
3 Tablespoons Cornstarch
1 Tablespoon Water
4 Cups Vegetable oil
Filling
Marinate pork in Tablespoons Soy Sauce and sprinkle with salt and pepper.
Heat Canola Oil in a wok over high heat.
Stir-fry the pork until cooked through.
Place in a 9 x 13 inch pan and set aside.
Wipe the wok out with a paper towel.
Heat 3 Tablespoons Canola Oil in the wok.
Stir-fry garlic and vegetables, until softened.
Return the cooked pork to the wok and stir with vegetables until thoroughly heated.
Sprinkle with about a Tablespoon Soy Sauce, and Salt & Pepper to taste, and stir to combine.
Return filling to 9 x 13-inch pan and set aside to cool.
For Eggrolls
After about ½ hour, stir together 1 Tablespoon Cornstarch and 3 Tablespoons Water in a small dish.
Place Eggroll Wrapper in a diamond with a corner pointed towards you.
Spoon 2 - 3 Tablespoons Pork and Vegetable filling in the middle.
Fold bottom corner up to the middle, fold the side corners to the middle, then dip your finger into the Cornstarch mixture and run it along the edges of the top of the diamond.
Fold the top corner into the middle, and press to secure.
Heat 4 cups Canola Oil in a deep pan - test for heat by dropping a small piece of an eggroll wrapper into the oil until it floats.
Fry 2 - 3 Eggrolls at a time until golden brown.
Drain on paper towels.
Serve warm with Chili Oil, Plum Sauce, Sweet Chili Oil, and Soy Sauce.
Recipe by
Create Amazing Meals
at http://createamazingmeals.com/2011/05/happy-birthday-dad-chinese-feast.html