Orange Beef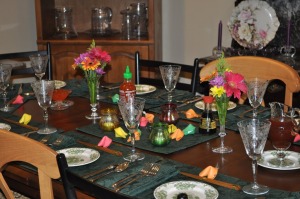 1½ pounds London Broil sliced into thin pieces.
3 Tablespoons Soy Sauce
1 Tablespoon White Sherry
2 teaspoons white Sugar
1 teaspoon Sriracha Hot Chili Sauce
Peel of 1 Orange cut into thin 1-inch strips
1 Tablespoon Sugar
Juice of 1 Orange
5 Tablespoons Canola Oil
1 White Onion cut into wedges
3 cloves Garlic, minced
2 cups Beef Broth
¼ cup White Sherry
4 - 5 drops Sriracha Hot Chili Sauce
2 Tablespoons Cornstarch dissolved in 2 Tablespoons water
Slice 1½ pounds London Broil into thin pieces.
Whisk together Soy Sauce, White Sherry, 2 teaspoons Sugar, Sriracha Hot Chili Sauce and pour over meat to marinate while preparing the rest of the ingredients.
Peel one Orange and cut peel into thin 1-inch strips and toss with 1 Tablespoon Sugar.
Juice the Orange.
Heat 3 Tablespoons Canola Oil in a wok and stir-fry the beef until it's cooked through.
Place cooked beef in a clean bowl and wipe wok out with a paper towel.
Add 2 more Tablespoons Canola Oil to wok and stir-fry onion and garlic.
When Onions begin to soften, return cooked beef to the wok with the candied orange peel, Orange Juice, Beef Broth, White Sherry, and 4 - 5 drops Sriracha Hot Chili Sauce.2 Tablespoons Cornstarch dissolved in water.
Continue to stir until sauce becomes clear and thick.
Serve hot with rice.