Shrimp and Scallops with Snow Peas, Bamboo Shoots, and Water Chestnuts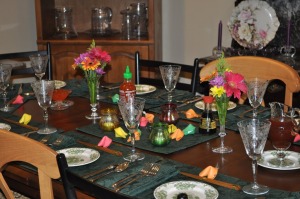 1 Cup Green Onions cut into 1-inch pieces, then cut again vertically
1 Cup Celery, finely diced
1 Cup Carrots, julienned
2 cloves Garlic, minced
1 pound Snow Peas
Salt & Pepper, to taste
2 cups Seafood Broth
1 pound Shrimp, cleaned and deveined
1 pound Sea Scallops
3 Tablespoons Cornstarch dissolved in 3 Tablespoons water
1 can Bamboo Shoots, drained
1 can Sliced Water Chestnuts, drained.
In a wok, stir-fry green onions, celery, carrots, garlic, snow peas
Season with salt & pepper, to taste.
When vegetables begin to soften, pour in seafood broth.
Place shrimp and sea scallops on top of stir-fried vegetables and place lid on wok for 3 - 4 minutes.
Then stir until shrimp, scallops, vegetables are coated and sauce begins to boil.
Stir in cornstarch dissolved in water.
Add bamboo shoots and water chestnuts.
Continue to stir until sauce becomes clear and thick.
Remove from heat and serve hot with rice.
Recipe by
Create Amazing Meals
at http://createamazingmeals.com/2011/05/happy-birthday-dad-chinese-feast.html