Shrimp Lo Mein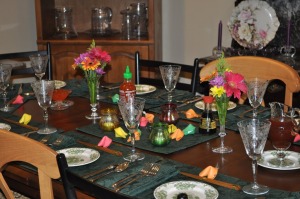 1 pound frozen cooked large Shrimp, thawed
2 packages of Chinese noodles according to package directions.
2 Tablespoons Toasted Sesame Oil
1 Cup Green Onions cut into 1-inch pieces, then cut again vertically
1 Cup Celery, finely diced
1 Cup Carrots, julienned
2 cloves Garlic, minced
Salt & Pepper, to taste
1 cup Seafood Broth
⅓ cup Soy Sauce
Cook 2 packages of Chinese noodles according to package directions.
Strain, rinse in cold water, and toss with 2 Tablespoons Toasted Sesame Oil.
Set aside.
In a wok, stir-fry green onions, celery, carrots, garlic, salt & pepper, to taste.
When vegetables begin to soften, stir in shrimp, seafood broth, and soy sauce.
Cook until heated through, then stir in prepared noodles.
Serve hot.