Pork Fried Rice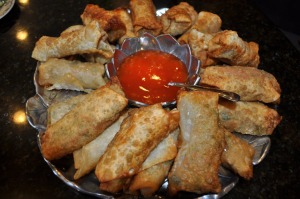 1 pound Pork Loin, finely minced
3 Tablespoons + ⅓ cup Soy Sauce
1 Tablespoon White Sherry
Salt & Pepper, to taste
4 eggs, whisked
5 Tablespoons Canola Oil
1 Cup Green Onions cut into 1-inch pieces, then cut again vertically
1 Cup Celery, finely diced
1 Cup Carrots, julienned
2 cloves Garlic, minced
Add 4 cups cooked white rice
1 Cup Frozen Green Peas
⅓ cup Soy Sauce
Cook 4 cups white rice and set aside.
Marinate minced pork in 3 Tablespoons soy sauce, White Sherry, Salt & Pepper.
In a small bowl, whisk 4 eggs and set aside.
Heat 2 Tablespoons Canola Oil in a wok over medium-high heat.
Stir-fry the pork until cooked through.
Place in a clean bowl and set aside.
Wipe the wok out with a paper towel.
Heat 3 Tablespoons Canola Oil in the wok.
Stir-fry green onions, celery, carrots, and garlic.
When vegetables begin to soften, return cooked pork to the wok and stir to combine.
Add 4 cups cooked white rice.
Continue stirring until rice begins to brown, then add 1 Cup Frozen Green Peas and stir until they thaw.
Stir in ⅓ cup Soy Sauce
Make a well in the middle of the mixture and pour eggs in.
Move wooden paddle back and forth to combine cooked eggs with uncooked eggs until they are the consistency of scrambled eggs, then stir everything together until thoroughly combined.
Add Salt and Pepper, to taste.