Snickerdoodle Cupcakes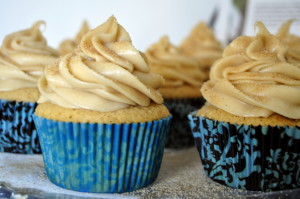 CUPCAKE BATTER
1¼ cups (180 g) all-purpose flour
¾ cups (180 g) sugar
1½ tsp (7 g) baking powder
1½ tsp (3 g) ground cinnamon
½ tsp (1 g) ground nutmeg
½ tsp (3 g) salt
½ cup + 1 tsp (120 g) room temperature unsalted butter
½ cup (100 g) sour cream
2 (110 g) eggs, room temperature
½ tsp (1½ g) vanilla extract
FROSTING
¼ cup (60 g) room temperature unsalted butter
¾ cup (200 g) cream cheese
2½ cups (360 g) powdered sugar
½ tbsp (5 g) vanilla extract
1 tsp (2 g) ground cinnamon
Sugar and ground cinnamon for sprinkling
CUPCAKE BATTER
Preheat the oven to 350 degrees Fahrenheit (170 degrees Celsius), convection function.
Place the cupcake wrappers in a cupcake pan or use two wrappers at a time on a regular sheet.
Mix the dry ingredients in a stand mixer using the beater blade attachment, or use an electric beater and bowl.
Add the butter and mix for a minute.
Stir in the sour cream, vanilla extract, and eggs and work together to make a smooth and fine batter.
Fill the wrappers just about three-quarters with the batter and bake in the middle of the oven for about 18 minutes.
Use a toothpick to test that the cupcakes are baked through.
Let cool completely.
FROSTING
Whisk together the butter and cream cheese with electric mixer in a bowl, scraping the sides with a spatula in between.
Add the powdered sugar, vanilla extract, and cinnamon and whisk for a minute on low speed. Then whisk again at maximum speed until the frosting feels nice and solid.
Pipe frosting on each cupcake and sprinkle sugar and cinnamon over them.