Bacon, Cheddar, and Chive Quiche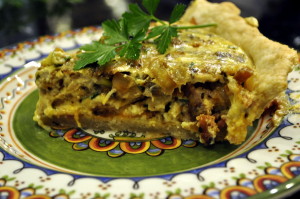 1 blind-baked Pie Crust
¼ pound Bacon, diced
½ medium Onion, finely diced
1½ Tablespoons Flour
1 cup shredded Cheddar Cheese
2 Eggs
½ cup Sour Cream
½ cup Cream (or Whole Milk)
1 Tablespoon fresh Chives, minced
¼ teaspoon Nutmeg, freshly gound
Salt and Pepper, to taste
Dice bacon and fry in a medium pan over medium heat until crisp.
Remove bacon from pan and place on a paper towel lined plate.
Drain all but 2 Tablespoons bacon fat.
Saute onion in remaining bacon fat.
When onion softens, sprinkle with flour and stir until it forms a roux.
Remove from heat.
In a medium mixing bowl, whisk eggs with sour cream and cream.
Add chives, salt, pepper, and nutmeg.
Scatter bacon over the bottom of the crust and top with cheese.
Pour egg filling evenly over them.
Bake for 30 minutes, or until it's set in the middle.
Allow quiche to sit for 10 minutes before slicing.
Recipe by
Create Amazing Meals
at http://createamazingmeals.com/2015/03/bacon-cheddar-and-chive-quiche.html