Shrimp and Scallop Topped Lemon Risotto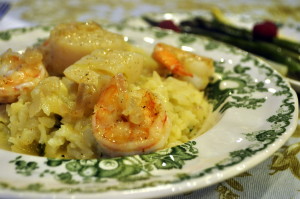 For the Lemon Risotto
3 Tablespoons Olive Oil
1 Shallot, minced
1 cup Arborio Rice
½ cup Dry White Wine
4 cups Chicken Broth
3 Tablespoons, Italian Flat Leaf Parsley, finely chopped
Juice and zest of 1 Lemon
½ cup shredded Parmesan Cheese
Salt & Pepper, to taste.
For the Shrimp and Scallops
4 Sea Scallops
10 Large Shrimp, peeled and deveined
½ cup Shallots, minced
3 Tablespoons Olive Oil
½ cup Dry White Wine
For the Lemon Risotto
In a large skillet, warm olive oil and sauté shallots.
When shallots soften, stir in Arborio rice
Continue stirring until rice begins to brown.
Stir in white wine and cook until most of it has evaporated.
Add chicken broth in 1 cup increments, stirring frequently, until most of the liquid is absorbed, before adding the next cup.
When most of the broth is absorbed, stir in parsley, lemon juice, lemon zest, shredded cheese, and salt & pepper, to taste.
For the Shrimp and Scallops
Sprinkle scallops and shrimp with Tony Chacere's seasoning and set aside.
In a medium skillet, over medium-high heat, warm olive oil.
Then sauté shallots until transparent.
Add the shrimp and scallops to the pan, turn after 3 – 4 minutes.
Cook for another 3 – 4 minutes.
Pour in wine to deglaze the pan.
Place shrimp and scallops on top of Lemon Risotto, and drizzle each one with Vom Fass Lemon Extra Virgin Olive Oil.
Recipe by
Create Amazing Meals
at http://createamazingmeals.com/2015/03/tantalize-your-tastebuds-with-vom-fass.html