Eastern Mediterranean Chicken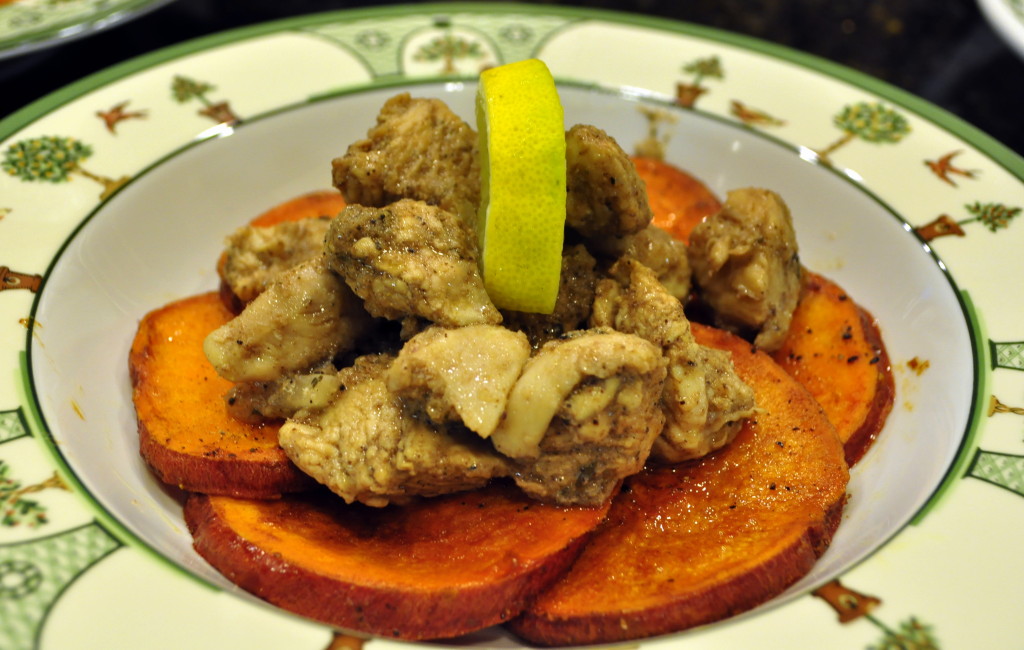 Cuisine:
Eastern Mediterranean
1 small (or half large) onion
4 garlic cloves, chopped
3 tablespoons apple cider vinegar
2 tablespoons honey
1 tablespoon allspice berries, ground in spice mill or coffee grinder (I strained these through a sieve)
1 teaspoon ground ginger
1 teaspoons dried thyme
1 teaspoon salt
1 teaspoon ground black pepper
1 teaspoon Louisiana Hot Sauce
½ teaspoon ground cinnamon
¼ teaspoon ground nutmeg
2 large skinless, boneless chicken breasts, cut into 1-inch cubes (you would want 2-inch cubes for brochettes) - this amount of marinade is easily enough for 4 chicken breasts
2 tablespoons olive oil
Place onion, garlic, apple cider vinegar, honey, ground allspice, ginger, thyme, salt, ground black pepper, hot sauce, cinnamon, and nutmeg into the bowl of a food processor.
Purée marinade until coarse paste forms.
Place chicken in large resealable plastic bag.
Add marinade to chicken in bag and seal.
Turn chicken to coat.
Refrigerate at least 8 hours or overnight, turning chicken occasionally.
Warm olive oil in a large skillet over medium-high heat.
Add chicken, stirring until cooked through, about 15 minutes.
Pour remaining marinade into pan and cook, stirring for about 5 minutes.
Remove from heat and ladle on top of Cinnamon and Honey-Glazed Sweet Potatoes.
Recipe by
Create Amazing Meals
at http://createamazingmeals.com/2015/04/spice-up-your-chicken-dinner.html