Carciofi alla Romana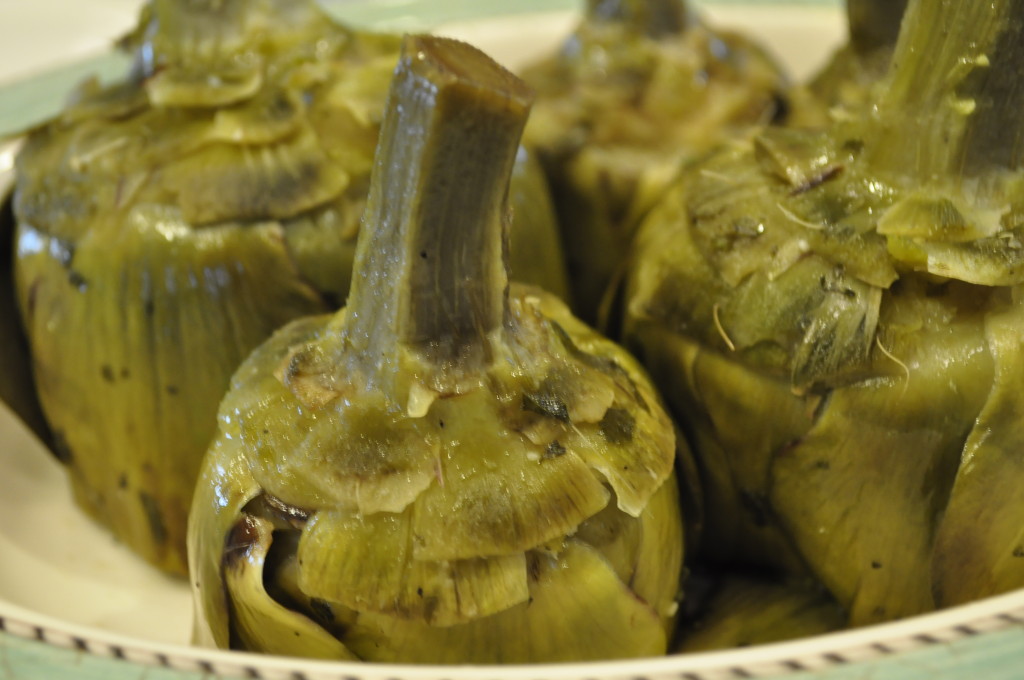 Author:
Elizabeth Manchilli
4 large artichokes
1 bunch fresh flat-leaf parsley
3 garlic cloves
1 bunch fresh mint
½ teaspoon salt
½ teaspoon freshly ground black pepper
¼ cup extra-virgin olive oil, plus more for drizzling
Trim the artichokes (see Elizabeth's blog for detailed instructions).
Using either a knife or a food processor, chop the parsley, garlic, and mint.
As you chop, add ½ teaspoon salt and about ¼ teaspoon of pepper.
Place in a small bowl and slowly add the ¼ cup of olive oil and stir to amalgamate the mixture
Lift an artichoke out of the water and gently blot off the water with a paper towel.
Hold the artichoke in one hand, and carefully loosen the leaves, being careful not to break any off.
Take a bit of the herb mixture and force it in between the leaves and into the center of the artichoke.
Keep doing this, until the artichoke is well seasoned.
You want to use about 2 tablespoons of mixture per artichoke.
Repeat for all the artichokes.
Choose a pot in which the artichokes will fit very snugly, and place them, one against the other, with the tops up.
If the stalks of the artichokes are big and thick, you can use those (trimmed of the tough outer part) to keep the artichokes from tipping over.
Otherwise, you can use pieces of potato as wedges.
Pour enough water to come up about 1 inch from the bottom of the pan.
Be careful not to pour the water directly onto the artichokes; you don't want to dilute the seasoning.
Sprinkle with salt and pepper, and drizzle abundantly with olive oil.
Place the lid on the pot and bring to a low simmer.
Cook until the artichokes are done, 45 minutes to an hour.
You can check to see if they're done by pulling on a leaf.
It should come out easily.
Also check the water frequently as the artichokes cook to make sure it hasn't boiled away, adding more if needed.
Carciofi alla romana are best served at room temperature.
I like to place them in a deep serving dish, with the cooking liquid at the bottom, and accompany them with lots of fresh bread to soak it up.