Red Wine Marinated Eye of Round Steaks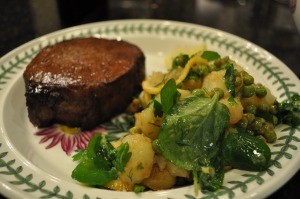 2 Eye of Round Steaks (4 - 6 ounces, each)
Seasoned salt (We used French Sea Salt seasoned with Basil and Green Pepper that we bought in Saint Paul-de-Vence in Provence).
1 cup of Red Wine.
2 Tablespoons Butter.
¼ cup Brandy
Place steaks in a ceramic or glass bowl with a lid.
Sprinkle with seasoned salt.
Pour in wine and turn steaks to coat.
Refrigerate for 2 - 4 hours, turning every hour or so.
In a medium sized skillet, over medium heat, melt butter.
Place steaks in butter and cook on each side 5 - 9 minutes, depending on desired doneness.
Deglaze pan with remaining marinade and ¼ cup Brandy.
Turn steaks to coat.
Cover pan, and cook for 2 minutes.
Plate steaks and spoon sauce over them.
Recipe by
Create Amazing Meals
at http://createamazingmeals.com/2011/03/red-wine-marinated-eye-of-round-steaks-and-smashed-new-potatoes-150th-post.html