Mandalay Beach Cookies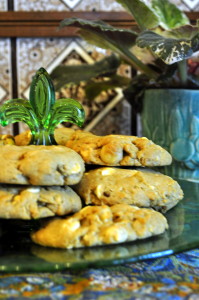 2 sticks (1/2 pound) butter
2 cups dark brown sugar, packed
2 eggs
2 Tablespoons Coconut Rum
1 teaspoon vanilla extract
4 cups flour
1½ teaspoons baking soda
½ teaspoon salt
1 12-ounce bag white chocolate chips
1 cup roasted Macadamia nuts, coarsely chopped
1½ cups sweetened flaked coconut
Preheat oven to 300 degrees.
In the bowl of a stand mixer, blend butter and sugar for 4 minutes on medium speed until light and fluffy.
Scrape down bowl with a rubber spatula and add eggs, one at a time, beating after each addition.
Scrape down bowl, again, add rum and vanilla, and beat until combined.
Add flour, baking soda, and salt, and beat until fully incorporated.
Scrape down bowl, and add white chocolate chips, Macadamia Nuts, and coconut.
Beat until thoroughly combined.
Line baking sheets with parchment paper.
Roll 2 tablespoons cookie dough into a ball and press to flatten.
Fill cookie sheets and bake for 20 minutes.