Coconut Pecan Cake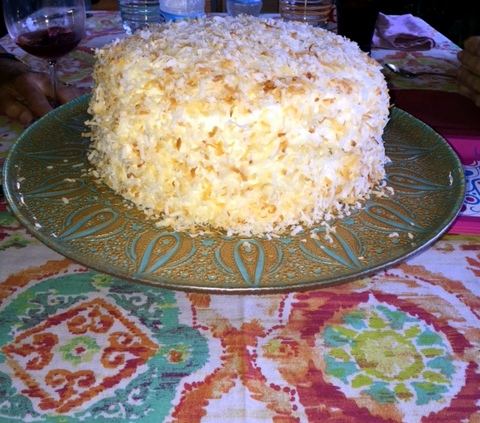 For the Cake
1 cup sweetened flaked coconut, firmly packed
¾ cup pecan halves, toasted
2 cups sugar, divided
2¼ cups all-purpose flour
1 tablespoon baking powder
¾ teaspoon salt
¾ cup unsalted butter, softened
¼ cup cream of coconut
4 large eggs
1 teaspoon coconut extract (I used 1 tablespoon Coconut Rum)
1 cup plus 2 tablespoons unsweetened coconut milk
For the Filling
2 large egg yolks, lightly beaten
¾ cup sweetened condensed milk
2 tablespoons unsalted butter
1 tablespoon cream of coconut
1 cup sweetened flaked coconut
Simple Syrup
½ cup sugar
½ cup water
Icing
1 cup heavy whipping cream
¼ cup confectioners' sugar
1 teaspoon coconut extract ( I used 1 Tablespoon Coconut Rum)
2 cups sweetened flaked coconut, toasted
Preheat oven to 350 degrees.
For Cake
Grease 2 (9-inch) round cake pans, and line the bottom of each with parchment paper. Grease parchment paper, then dust with flour, tapping out excess.
Finely grind coconut in a food processor; transfer to a bowl. Add pecans and 2 tablespoons sugar to processor, finely grind. Sift together flour, baking soda and salt into a large bowl. Stir in ground coconut and pecan mixture.
In the bowl of a stand mixer fitted with the paddle attachment, beat butter, cream of coconut, and remaining 1¾ cups plus 2 tablespoons sugar on high speed until light and fluffy, approximately 4 minutes. Beat in eggs, one at a time, beating after each addition. Beat in extract. Add flour mixture in 3 batches, alternating with coconut milk, beginning and ending with flour mixture. Divide batter between prepared pans, smoothing tops with an offset spatula.
Bake until cakes are golden and a wooden pick inserted inserted in center comes out clean, 30 to 35 minutes. Let cool in pans on a wire rack for 30 minutes. Run a knife around edge of each cake, invert onto rack, and remove parchment. Let cool completely.
For Filling
Place egg yolks in a small heatproof bowl. Combine condensed milk, butter, and cream of coconut in a small saucepan. Cook over medium-low heat, stirring constantly until hot, approximately 4 minutes. Whisk one-third of hot milk mixture into egg yolks.Transfer egg mixture to saucepan, whisk constantly over medium-low heat until mixture reaches the consistency of pudding, approximately 4 minutes. (Do not allow custard to become to thick.) Transfer custard to a bowl; stir in coconut. Let cool.
Simple Syrup
Place sugar and water in a heat-proof measuring cup and microwave on high for 1 minute. Stir until sugar dissolves. Let cool.
To Assemble Cake
Cut each layer in half horizontally. Place one layer cut side up in the bottom of a 9-inch cake pan. Moisten top with 1 tablespoon Simple Syrup. Spread ½ cup filling in a thin, even layer using an offset spatula. Repeat twice with with layers, Simple Syrup, and filling, then place the last layer on top, cut side down. Refrigerate cake approximately 1 hour. To unmold, run an offset spatula around edges of chilled cake. Invert a cake plate over the pan, and carefully flip cake and cake plate.
For Icing
Beat cream, confectioner's sugar, and extract at high speed with an electric mixer until stiff peaks form. Spread on top and sides of cake; sprinkle with toasted coconut. Refrigerate until ready to serve.