Roasted Tomato Soup with Peas and Rice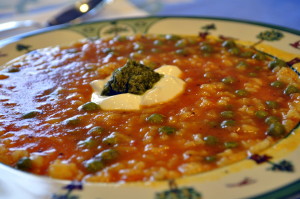 Roasted Tomatoes
2 pounds tomatoes
1 large onion
6 cloves of garlic, peeled
Olive Oil
salt & pepper, to taste
Add ins
½ cup cooked rice
1 cup frozen peas, thawed
Garnish
Sour Cream
Pesto
Roasted Tomatoes
Pre-heat oven to 425 degrees.
Line a rimmed baking sheet with foil.
Slice tomatoes into ½-thick slices and lay on baking sheet in a single layer.
Cut onion into 8 wedges and scatter among tomatoes.
Scatter garlic cloves among tomatoes and onions.
Drizzle all the vegetables with Olive Oil.
Sprinkle with Italian Herb Mix, Salt, and Pepper.
Roast in the oven for 45 minutes – your kitchen will smell enticing!
Run everything through a food mill fitted with a medium plate (if you don't have a food mill, you can use a mesh strainer).
Transfer mixture to a medium saucepan and heat through.
Stir in rice and peas.
Garnish with a dollop of sour cream and pesto.
Recipe by
Create Amazing Meals
at http://createamazingmeals.com/2015/06/roasted-tomato-soup-with-peas-and-rice.html