Chicken Imperial over Steamed Spinach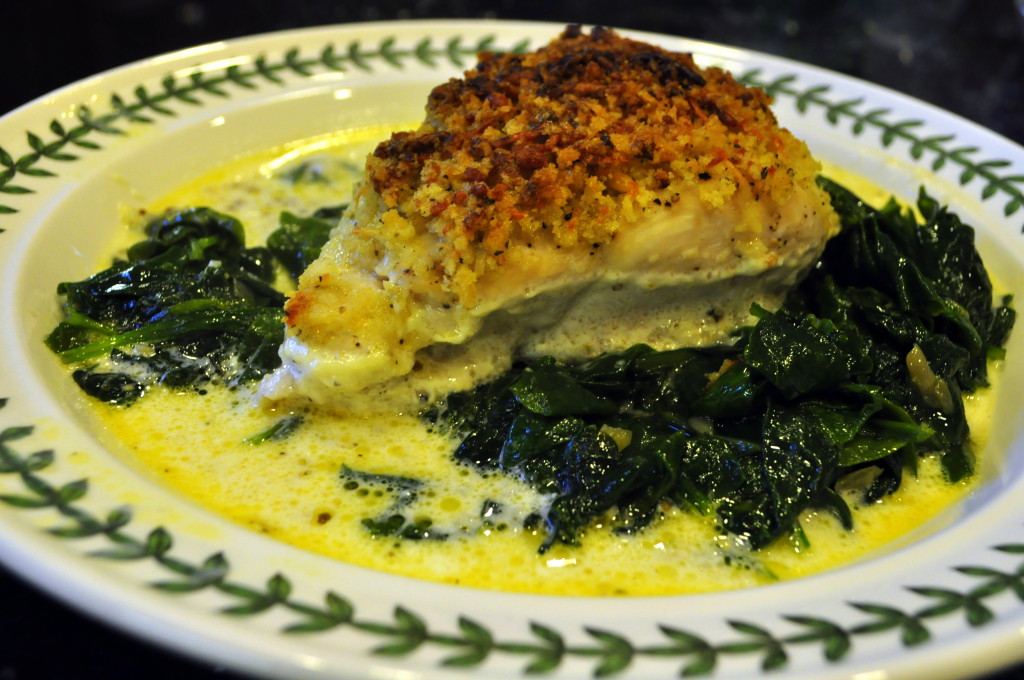 Author:
Aaron Furmanek - Cook's Country
2 (6- to 8-ounce) boneless, skinless chicken breasts, trimmed
salt and pepper
½ cup panko bread crumbs
2 tablespoons grated Parmesan cheese
1½ tablespoons unsalted butter, softened, plus 1 tablespoon melted
1 tablespoon minced fresh parsley
1 teaspoon minced fresh thyme
1 clove garlic, minced
½ cup heavy cream
⅓ cup chicken broth
¼ cup dry white wine
1 small shallot, minced
1 teaspoon Dijon mustard
Season chicken all over with ½ teaspoon salt. Cover with plastic wrap and refrigerate for 30 minutes. Adjust oven rack to middle position and heat oven to 425 degrees.
Meanwhile, combine panko, Parmesan, softened butter, 1½ teaspoons parsley, thyme, garlic, and ¼ teaspoon pepper in bowl with fork until butter is fully incorporated into crumbs.
Pat chicken dry with paper towels and season with pepper. Arrange chicken, skinned side up in a 13- by 9-inch baking dish side by side with narrow ends of breasts opposite each other. Brush tops of breasts with equal amount of panko mixture, pressing firmly to adhere.
Whisk cream, broth, wine, shallot, and mustard together in 2-cup liquid measuring cup. Carefully pour cream mixture around chicken breasts, taking care not to wet crumbs. Transfer dish to oven and bake until chicken registers 160 degrees, 17 to 20 minutes.
Using spatula, transfer chicken to platter. Return dish to oven and continue to cook until sauce is thickened slightly, 1 to 3 minutes. Season with salt and pepper to taste. Spoon sauce around chicken, sprinkle with remaining 1½ teaspoons parsley, and serve.
Recipe by
Create Amazing Meals
at http://createamazingmeals.com/2015/06/chicken-imperial-over-sauteed-spinach.html