Macadamia-Crusted Mahi Mahi with Pineapple Rum Sauce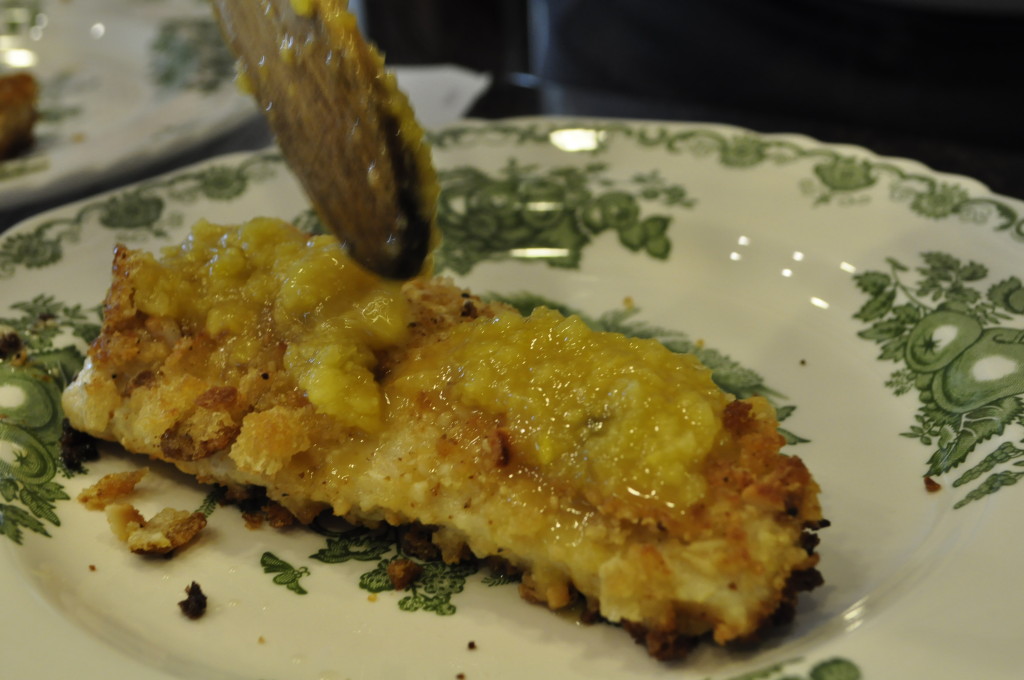 For the Fish
1 cup Sourdough bread crumbs
¾ cup macadamia nuts, ground
salt & pepper, to taste
1 egg
2 teaspoons water
⅓ cup flour
4 4-ounce Mahi Mahi filets
¼ cup olive oil
For the Sauce
1 cup pineapple, pureed
1 tablespoon brown sugar
1 tablespoon white vinegar
¼ cup coconut rum
1 teaspoon arrowroot
For the Fish
Blend bread crumbs, macadamia nuts, salt and pepper in the bowl of a food processor until medium-fine.
Sprinkle flour on a plate.
Whisk egg with water in a shallow bowl.
Sprinkle bread crumb mixture on another plate.
Heat olive oil in a large skillet over medium heat.
Dredge fish in flour, dip in egg, and press into bread crumbs.
Fry in oil for 3 - 5 minutes on each side until crust is golden brown.
For the Sauce
In a small saucepan over medium heat, stir together pineapple, sugar, vinegar and rum.
When sugar dissolves, stir in arrowroot, and continue to stir until sauce is thickened.
Place fish on dinner plate and drizzle sauce over it.
Recipe by
Create Amazing Meals
at http://createamazingmeals.com/2015/06/macadamia-crusted-mahi-mahi-with-pineapple-rum-sauce.html