Garden Green Beans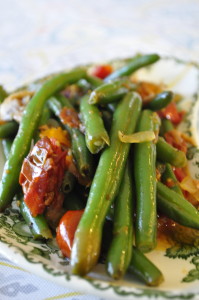 1 pound fresh green beans
½ onion, diced
2 tablespoons bacon fat (or olive oil)
1 cup cherry tomatoes, quartered
2 sliced cooked bacon, crumbled
Salt & pepper, to taste.
Clean green beans and place them in a large skillet.
Cover with water and sprinkle with salt.
Bring to a boil and cook for about 10 minutes until softened.
Strain green beans and set aside.
Rinse and dry skillet and return to stove.
Over medium-high heat, saute onion in bacon fat (or olive oil) .
When onion has softened, add cherry tomatoes.
When tomatoes begin to break down, return green beans to pan.
Stir until vegetables are warmed through and sprinkle with bacon.
Add salt & pepper, to taste.