Giant Chocolate Cake with Cowboy Coffee Frosting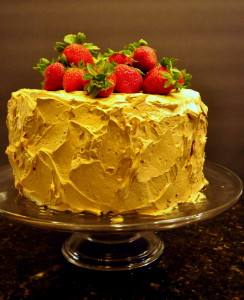 For the Cake
1 cup (2 sticks) unsalted butter, at room temperature
½ pound good-quality bittersweet chocolate, coarsely chopped
4 cups granulated sugar
1 tablespoon vanilla extract
1 tablespoon baking soda
1 cup sour cream
4 large eggs
4 cups all-purpose flour
2 cups hot brewed coffee
For the Frosting
8 tablespoons instant espresso coffee powder
⅓ cup hot brewed coffee
2 pounds (8 sticks) unsalted butter, at room temperature
4 cups powdered sugar
2 teaspoons vanilla bean paste
Fresh strawberries, for garnish (optional)
To Make the Cake
Preheat the oven to 350 degrees F. Place 1 oven rack in the top third of the oven and second in the bottom third. Line three 9-inch round cake pans with parchment paper rounds, grease with butter or cooking spray, dust the pans with flour, and knock out the excess.
Melt 1 cup butter and chocolate in a metal bowl set over a saucepan with 2 inches lightly simmering water. Stir constantly until the chocolate is completely melted. Whisk in the granulated sugar and vanilla extract. In a small bowl, stir the baking soda into the sour cream. Whisk the sour cream-soda mixture mixture in the melted butter and chocolate; whisk in the eggs, 1 at a time, then whisk in the flour until thoroughly combined. Add the 2 cups hot coffee and whisk until smooth.
Spoon batter evenly into the prepared cake pans. (Each cake pan will have about 3 cups of batter.) Set 2 filled pans on 1 oven rack and the remaining pan on the other. Arrange the cake layers on the racks so that no layer is directly over another. Bake until the cake is firm to the touch and a toothpick inserted in the middle comes out clean, 35 to 40 minutes. Monitor the layers carefully for doneness; each one may be done at a different time. Cool the layers in their pans about 10 minutes; unmold onto wire racks to cool completely.
To Make the Frosting
Dissolve the espresso powder in the ⅓ cup hot brewed coffee. Set aside to cool. Using an electric mixer fitted with the paddle attachment, beat the 2 pounds butter and powdered sugar on medium-high until light and fluffy, about 3 minutes. Add the cooled espresso and vanilla paste and beat until even lighter and fluffier than before, an additional 4 to 5 minutes.
To Assemble the Cake
Stack 1 cake layer on a serving plate and spread the top with about 1 cup of the frosting. Repeat with the second cake layer and another 1 cup frosting. Stack the final cake layer on top of the first 2 and generously cover the cake's top and sides with the remainder of the frosting. Garnish with fresh strawberries, if desired.
Do it Early
The cake can be made up to 1 day in advance, frosted and refrigerated. Take the cake out of the refrigerator about 3 hours before serving. Serve at room temperature.
Recipe by
Create Amazing Meals
at http://createamazingmeals.com/2015/07/giant-chocolate-cake-with-cowboy-coffee-frosting.html