Halibut Piccata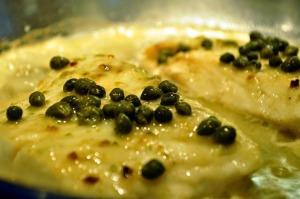 2¼-pound Halibut Steaks
1 teaspoon Sunny Paris Seasoning
Salt, to taste
3 Tablespoons Flour
1 Tablespoon Butter.
1 Tablespoon Olive Oil.
½ cup White Wine
Juice of 2 Lemons
2 - 3 Tablespoons Capers to sauce.
Sprinkle Sunny Paris Seasoning, salt and flour on both sides of Halibut steaks
Shake off and reserve extra flour
In a medium saucepan, over medium heat, melt butter into olive oil.
Cook Halibut for 5 minutes on each side.
Pour in White Wine, stirring occasionally until reduced by half.
Turn fish over.
Then add the lemon juice and reserved flour.
Continue to simmer and spoon sauce over fish until it begins to thicken.
Then add capers to sauce.
Serve immediately, spooning sauce over fish.