Filet Mignon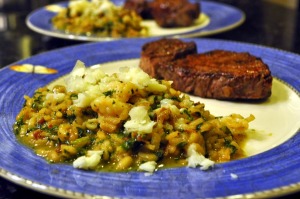 2 8-ounce Filets
Salt and Pepper, to taste
Vegetable Oil
Remove steaks from the refrigerator 1 hour before cooking and sprinkle with salt & pepper on both sides.
Coat the inside of a cast iron skillet with vegetable oil.
Place pan on the stove over medium-high heat.
When oil begins to smoke, sear steaks on both sides, about 3 minutes a side.
Place a baking rack over a sheet of foil and place steaks on the rack.
Allow to rest at room temperature for ½ hour.
Preheat oven to 425 degrees.
Place steaks back in cast iron skillet.
Place skillet in oven for 5 - 12 minutes, depending upon the thickness of the steak and the way you like them.
Remove pan from oven and allow steaks to rest for 5 minutes before serving.